Intel's x86 CPUs inside smartphones, arriving in Q2 of this year
Intel and Lenovo announce Lenon K800, sports Intel's "Medfield" Atom platform.

Published Wed, Jan 11 2012 2:27 AM CST
|
Updated Tue, Nov 3 2020 12:30 PM CST
CES 2012: Intel and mobiles have never really gone together like... peanut butter and jelly (for you Americans) and vegemite on toast (for you Australians), but this year, marks a very big change for the chip developer. During Intel's keynote presentation at CES, Liu Jun, president of Lenovo's mobile Internet division, announced the Lenovo K800 smartphone built on Intel's "Medfield" Atom platform.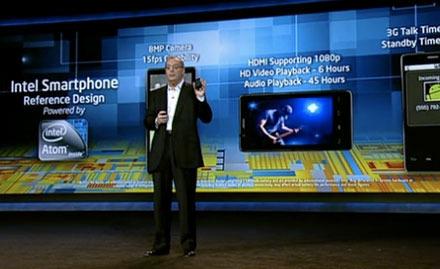 The K800 sports a 4.5-inch 720p screen, HSPA+ support, runs Android 4.0 and will be available in China in Q2 of 2012. Inside, the processor is the Intel Atom Z2460 with 21Mbps HSPA+ connectivity on the China Unicom network from Intel's XMM 6260 chipset. Lenovo also showed off its IdeaPad K2110, a 10-inch Android 4.0-based tablet, powered again, by Intel's Medfield.
The Medfield goodness didn't stop though, Motorola Mobility CEO, Sanjay Jha announced that Motorola and Intel had entered into a "multiyear, multidevice strategic partnership," with Motorola's first Atom-powered phones to ship in the second half of this year.
Android apps that are written using the Android NDK (which produces native ARM code instead of the processor-independent Java bytecode used by most Android apps) will also run on x86 ANdroid phones. Intel were vague on the details but did imply that it had created some form of emulator or something similar, that will enable ARM applications to run seamlessly. What are the results of this emulation? Well, Intel claims that at launch, roughly 90-percent of native applications (which make up about 25-percent of apps in the Android Market) will run correctly. Nice move, Intel.
Related Tags