Samsung unveil new Smart TVs, sport dual-core CPUs, cameras and more
Samsung unveil slew of new Smart TVs, include cameras, edge-lit LED, and apps.

Published Tue, Jan 10 2012 5:32 AM CST
|
Updated Tue, Nov 3 2020 12:30 PM CST
CES 2012: Samsung's president of consumer electronics took the stage of CES in an Apple-like fashion to tell the world the future of where Samsung's Smart TV's are headed. He said that they will eventually be able to "listen, see, and do" without any interaction with a remote control.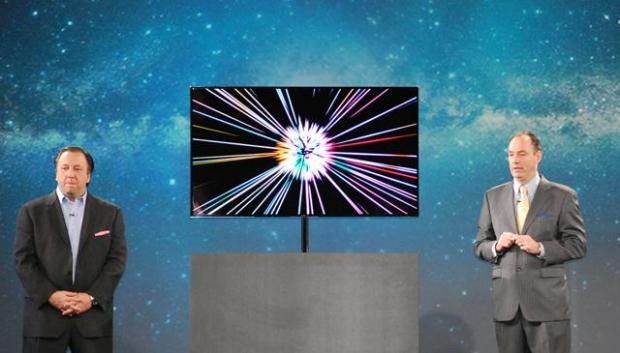 Samsung showed off a demo video which teased the motion control capabilities, with Kinect-like controls of the TV. Tim Baxter, president of Samsung America then introduced something we should be seeing and hearing much more of: the Samsung ES8000 Smart TV. This isn't just a name, either, "Smart TV". The Samsung ES8000 Smart TV includes a dual-core processor and support for multi-tasking. It also sports a built-in camera and microphone.
It also includes a revamped Smart Hub with a "cleaner, more intuitive design" for navigating, and finding apps. There's also a new U-shaped stand as well, that got quite a few gasps from the CES crowd. Baxter also announced something that will keep the casual gamers happy: Angry Birds will be available on their Smart TV platform, as well as a free channel featuring Angry Birds cartoons.
The announcements didn't stop there, though. Samsung will be introducing new signature services such as "Family Story", which will allow families to collect photos and memories across mobile devices. Samsung's voice and motion recognition is part of Samsung's "Smart Interaction" services, which includes face recognition capabilities, too. Samsung will offer an API for Smart Interaction controls that will allow developers to create apps to take advantage of them.
Something that interests me, greatly, is that Samsung's 2012-based lineup of televisions include "rear upgrade slots", which allow you to plug in faster hardware down the line. Baxter stated that the upgrade hardware will be available in 2013, but didn't have anymore details on how exactly this would work. This is something that is very interesting, and I wish next-gen consoles include it.
Samsung then showed off its prized "Ultimate TV", a 55-inch Super OLED-based set. Samsung also stated it produces 90-percent of all OLED displays at the moment, and the Ultimate TV will be one of the first to sport the new tech at such a large size.
Related Tags