SOPA update: Google, Amazon, Facebook and Twitter consider "nuclear option" to protest SOPA
Google, Facebook, Amazon and Twitter could pull their websites down in protest of SOPA.

Published Wed, Jan 4 2012 6:27 AM CST
|
Updated Tue, Nov 3 2020 12:30 PM CST
Imagine you wake up tomorrow, pull your smartphone or tablet from your bedside table, click the Facebook icon and wait for it to load. It loads, and shows you a simple page of "We have taken Facebook down in support of SOPA, if you're against the act, please call X" and with X is your local representative, or whoever Facebook decide to redirect you to.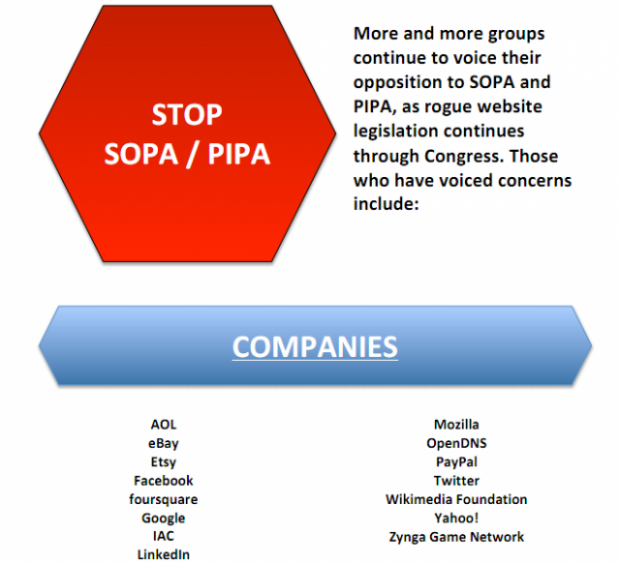 You think, no wait, there's no way this is happening. You Google the issue. Google's page doesn't load and a similar site is up. Your heart sinks and you think Skynet have finally taken over. A T-101 will step through your door and ask if Sarah Connor lives there, before shooting your home up.
Well, that was a great introduction into what could be the biggest arsenal that the Internet has against the crap that is SOPA. According to Markham Erickson, head of the NetCoalition trade association, there has been talk of a so-called "nuclear option", where Google, Amazon, eBay, and Yahoo! would all simultaneously go dark to protest SOPA and to highlight the fundamental danger the legislation poses to the function of the Internet itself.
There's no form decision whether this would happen yet, as all companies involved would experience some form of backlack over any suspension of services. I mean, what would people do without their Spyware-ridden Facebook games? However, it would be the best way to get literally, hundreds of millions of people to wake up and take notice of what is happening and how it would directly affect them.
If this were to happen, it might happen on January 23. The Senate is scheduled to debate SOPA the day after, so it would make sense to unleash it 24 hours beforehand.
Related Tags