Dropbox for Android gets dropped a new update, full revamp, new features
Dropbox 2.0 for Android is now here, new features, major revamp.
Published
0 minutes & 49 seconds read time
Dropbox fans rejoice, Dropbox 2.0 for Android is now here. If you want some cloud storage for your Android-based device, you're in luck. Version 2.0 of the app includes new features and a totally revamped layout. A little arrow can be found to the right of each file in the app, which then leads you to a pop-out menu.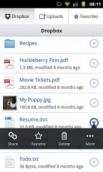 From the pop-up menu, you can share, delete, and favorite, which is a brand new feature to Dropbox. When in the main menu, you'll have three taps up top including Dropbox, Uploads and the new addition, Favorites. From Dropbox, you can put files into your cloud-based storage, which then puts them across all of your devices, and once a file is favorited, you can access it even without an Internet connection because it'll be stored locally on the device itself.
Dropbox also includes the ability to rename files directly from the app, as well as uploading files in bulk. If you like to upload from and export to local storage, you're in luck: you can now do this from the Uploads tab. Ice Cream Sandwich support has been baked in, as well as various bug fixes.
You can grab Dropbox 2.0 for Android from the Android Market.
Related Tags