The world's smallest USB memory stick is here, goes up to a wall and awaits the impending measuring contest
The world's smallest USB memory stick is here.

Published Fri, Dec 23 2011 12:23 AM CST
|
Updated Tue, Nov 3 2020 12:30 PM CST
Dutch-based promotional product manufacturer, Deonet, who made the diamond-studded Golden USB memory stick and the FSC-certified maple-enclosed Eco Wood drive have just announced something quite special before the holidays: the world's smallest USB memory stick.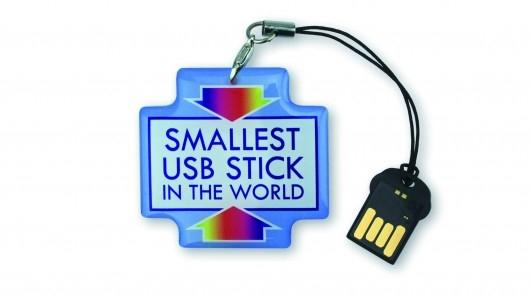 The USB memory stick measures in at just 19.5 x 14.5 x 2.9mm, which is thicker, but a fair bit shorter than the already small Kingmax Super Stick Mini. It comes in three sizes, 4, 8 and 16GB and will launch in January at PSI Dsseldorf. The drive is based on something called the Micro UDP chip, with the UDP standing for USB Disk In Package assembly process, which has the controller, flash IC, substrate and passive components molded into a very small, single package. This makes it less than half the physical size of other USB memory solutions.
The company says that once the drive is plugged in, it can hardly be seen coming out of the USB port itself. Impressively small. At the moment, Deonet has not revealed any pricing on the new world's smallest USB memory stick. Hopefully the price matches the small footprint of the drive.
Related Tags