The AT&T and T-Mobile merger is dead
AT&T and T-Mobile merger won't be happening, sits dead in the water.

Published Tue, Dec 20 2011 5:01 AM CST
|
Updated Tue, Nov 3 2020 12:30 PM CST
AT&T have decided that the merger with T-Mobile won't be happening. AT&T blames the FCC and the U.S. Department of Justice and states that the actions of two government bodies "do not change the realities of the U.S. wireless industry."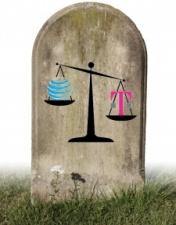 AT&T also added that the merger would have been an interim solution to the spectrum allocation issue that is currently hurting the industry, and that without the merger, "customers will be harmed and needed investment will be stifled." An FCC staff report was released just hours after AT&T and T-Mobile withdrew their merger application, with the staff report calling into question the claims that the merger "would serve the public interst, convenience, and necessity."
In the FCC's investigation, they determined among other things that approving the merger would drastically reduce competition and investment in the wireless space, contrary to AT&T's claims of jobs and mobile broadband for all.
It's also going to cost AT&T $4 billion to T-Mobile USA parent company Deutsche Telekom in the form of money and spectrum access. It's not good for anyone, really.
Related Tags