There was a patch that was released by Microsoft last week (KB2592546) for Windows, where it was claimed it would improve performance of systems powered by AMD's latest processor architecture, Bulldozer.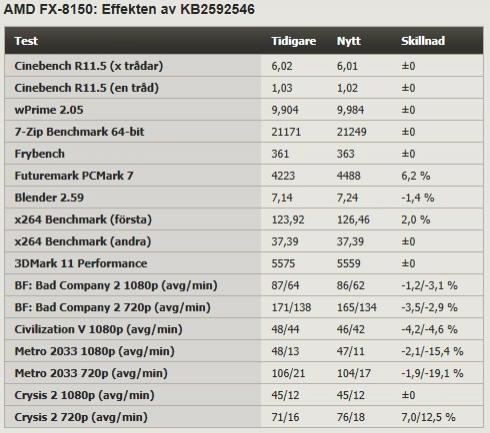 What the patch did, was make the OS aware of the way AMD's Bulldozer cores are structured, so it could effectively make use of the parallelism at its disposal. Microsoft a few days later, pulled the patch. But, this is the Internet.
SweOverclockers' had enough time to do a "before and after" performance test of the new AMD FX-8150 processor, with the now pulled patch. The results of SweOverclockers' tests are in the picture above. "tidigare" is before, "nytt" is after, and "skillnad" is change. The chip has been put through a fair amount of tests, some synthetic CPU-intensive tasks, and real-world gaming performance tests.
The results are actually, not that good, and this is most likely the reason the patch was pulled.