ITC sides with Apple, some of HTC's products face sales and import ban
HTC faces sale, import ban from ITC as they side with Apple.

Published Mon, Dec 19 2011 11:31 PM CST
|
Updated Tue, Nov 3 2020 12:30 PM CST
Apple's patent trolling has striked once again today, with the ITC siding with the Cupertino-based company. HTC was on the other side of the stick, where they will have certain models of their products either banned from sale, or imported.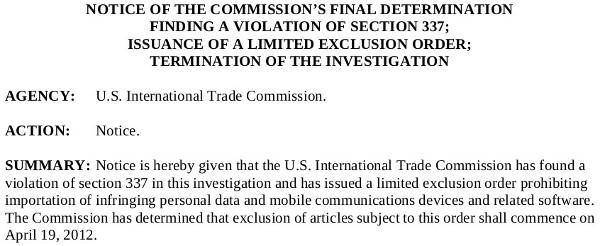 The ITC found that HTC violated a pair of patents held by Apple regarding the formatting of data (such as phone numbers) in otherwise unstructured documents (such as e-mails) allowing users to interact with them.
The ban isn't set to strike until April 19th of next year, which gives both HTC and Google enough time to work through it. In the meantime of this news going to air (or to keyboard), HTC have said that they have a plan in place to not face the ban. The ITC did not find that HTC violated two other patents that were in question, which related to real time signal processing and would've been much harder for HTC to circumvent.
Related Tags