LeakedTT: AMD Radeon HD 7970 specs, 30% faster than 6970, launches on December 22
LeakedTT: AMD Radeon HD 7970 specs, as fast as the dual-GPU HD 6990.

Published Fri, Dec 16 2011 9:26 PM CST
|
Updated Tue, Nov 3 2020 12:30 PM CST
As the launch of AMD's next-generation Radeon cards gets closer, we have some exciting leaked specs to share with you. From some leaked slides, the specs of AMD's first Graphics Core Next (GCN) chip, the Tahiti XT, which goes under the suave name of the AMD Radeon HD 7970, will sport 3GB of GDDR5 (and not the rumored XDR2 memory), 3.5 TFLOPS of power, 2048 stream processors, 384bit memory width at 5.5Gbps, total load consumption of up to 300W and an less than 3W for idle.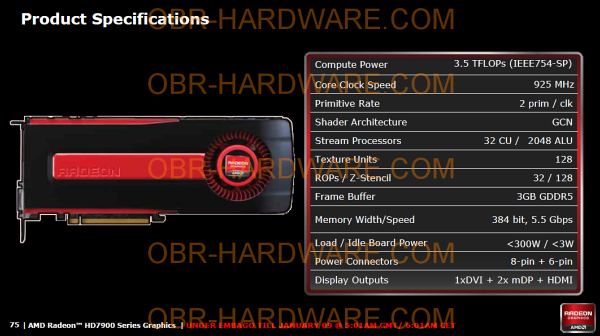 Display outputs include 1 x DVI, 2 x miniDisplayPort and HDMI, in terms of power connectors, it should have one 8-pin and one 6-pin. If these specs are true, we should expect the single-GPU Radeon HD 7970 to keep up with, and most likely beat in some games, the dual-GPU Radeon HD 6990 and NVIDIA GeForce GTX 590. It seems to be about 30-percent faster than the single-GPU Radeon HD 6970.
Once some great drivers are released for it, we should see more performance sucked out of the new cards. Two of these should see a game like Battlefield 3 run at Ultra quality, 1920x1080 at 120Hz absolutely maxed out with AA/AF at 120fps minimum, or 2560x1xx0 at 60Hz, minimum 60fps.
Related Tags