Hands-on with Kyobo color e-reader using Qualcomm's mirasol display
Korea treated to the butterfly treatment.
Published
1 minute & 40 seconds read time
Earlier on today we attended a Qualcomm media roundtable in Taipei where we were introduced to a partner product of theirs from a Korean bookstore company called Kyobo.
Kyobo is famous in Korea and its digital catalog includes some 90,000 titles including regular ebooks, children's books, video books and video lectures. With almost a 100% literacy rate and an aggressive government very keen on high levels of education and parents with enough deposable income for youth learning gadgets, Korea is a perfect market for Qualcomm to spread its wings and work with its partners to bundle its mirasol display technology on mobile products.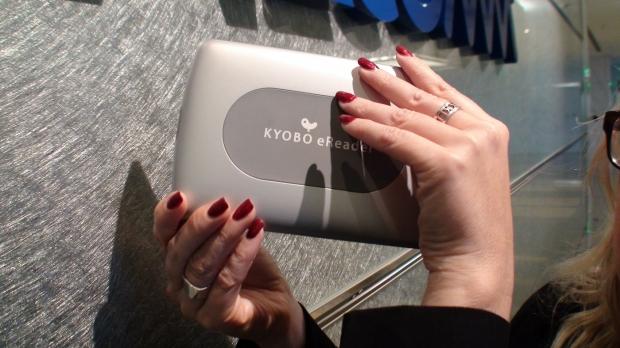 The result of said above is the launch of the first color e-reader featuring Qualcomm's mirasol display tech. Mirasol is different to that of LCD, LED or plasma in that there are no harmful chemicals used in the production of the display and there is no back light, which some consider harmful to human eyes over extended periods of use. Mirasol reflects natural ambient light in your surrounding and uses it to create the color display. So, you aren't going to get the same quality display as LCD, but Qualcomm are not trying to compete with LCD and mirasol displays use less power. This is only going to result in a device with longer battery life at the end of the day.
[img]2[/img]
The Kyobo e-reader features a 5.7-inch display with a 1024 x 768 resolution and is powered by Qualcomm's 1GHz Snapdragon S2 processor. By default it ships with Android 2.3 and a select few Android apps. It is able to provide basic web surfing with built-in Wi-Fi and it supports standard definition video playback up to 40 frames per second. As mentioned by Qualcomm, it's important to remember this device is not a tablet and was never designed to be. It is a device designed for students which offers adequate educational interactivity in my opinion.
[img]3[/img]
It is already on sale now in Korea for $349,000 KRW ($310 USD) and if you are a member of the Kyobo Platinum Book Club it can be picked up for 299,000 KRW ($265 USD). This device is only going to be sold in Korea, which may be a disappointment to some, but this video above also goes a long way to showing us what type of other devices we can expect to see using mirasol display technology from Qualcomm next year, which is said to be a busy time for new products for the San Diego based firm.
Related Tags