AMD Catalyst 12.1 Preview, AMD turns a new leaf in drivers
AMD releases Catalyst 12.1 Preview, includes some nifty new features.

Published Tue, Dec 13 2011 9:34 PM CST
|
Updated Tue, Nov 3 2020 12:30 PM CST
AMD have had quite the trouble lately with drivers, a botched RAGE driver, no CrossFire support in Battlefield 3 without micro-stuttering for most users, and Skyrim took nearly a month to get going for HD 5000-Series owners with CrossFire.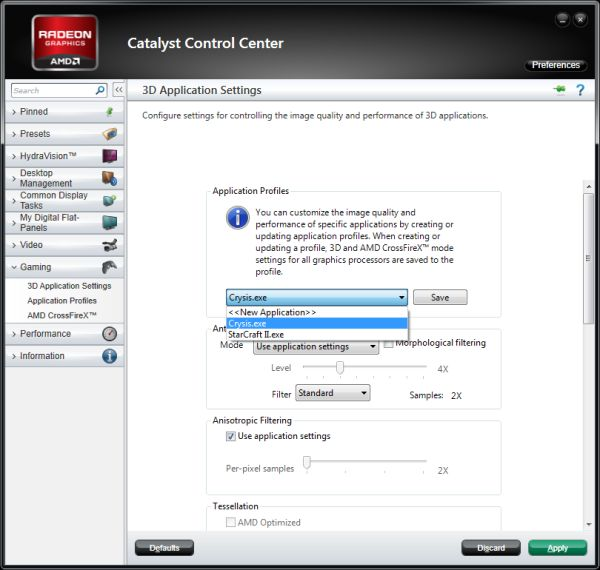 But, 2012 is a new year, and AMD have their Graphics Core Next (GCN) debuting, which is their first architectural change since the R600 (2900XT). With it, AMD have added some herbs and spices to their drivers, to not propel the new series of GPUs, but to revamp their old ones, too.
AnandTech really cover the Preview drivers well, but a rundown is that they're heavily modified, and have tonnes of new features baked in that should impress pretty much everyone. One thing most people are going to love: custom application profiles. Hooray! This new feature allows users to create new application profiles and to modify the application profiles that are distributed through drivers and CAP updates.
AMD also now allow various CrossFire modes to be used through a custom profile.This is very handy, as it allows you to enable anti-aliasing for some games, and not for others. To enable anistrophic filtering for some games, and again, not for others. Instead of the old way where you'd enable it at a global level, and have to change those settings for each game you play.
The article on AnandTech is quite lengthy, so if you're an AMD GPU owner, a potential future AMD owner, looking forward to getting the 7000-Series early next year, or just want to take a good read into the new drivers available from AMD, then check it out.
Related Tags