Amazon wants to pay you $5 to walk out of stores without buying anything
Amazon offer $5 off if you walk in and not buy a single item.

Published Thu, Dec 8 2011 12:37 AM CST
|
Updated Tue, Nov 3 2020 12:30 PM CST
You may think theres some form of trickery to my title there, but there is not. Quite simply put, Amazing are offering consumers up to $5 off on purchases if they are to compare prices using Amazon's mobile phone application in-store.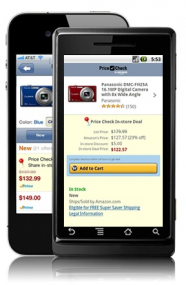 The promotion is for one day only, this Saturday, and is a sneaky way of Amazon to increase the usage of its bar-code-scanning application, while also collecting intel on prices in the stores. Mobile commerce is a booming market right now, with more and more customers more than happy to use applications on their smartphones to either shop, or compare prices not just at home, but at work, in the shop itself, or while in the toilet.
Thanksgiving and Black Friday sales were enormous, and I'm sure Amazon want a repeat of that success when Santa comes visiting in a few weeks. Amazon's Price Check app is available on both the Apple App Store and the Android Market, the app allows shoppers to scan a bar code, take a picture of an item or conduct a text search to find the lowest prices.
Amazon are also taking it a step further by asking consumers to submit the prices of items with the app, so that Amazon know if they're still offering the best prices.
Director of Amazon Mobile, Sam Hall, says:
We scour online and in-store advertisements from other retailers, every day, year-round. Now, we are enabling customers to use the Price Check app to share in-store prices while they search for the best deals.
The promotion is this Saturday, where Amazon will offer 5-percent off, or up to $5, off on as many as three items.
Related Tags