Microsoft's Windows Store will offer "a bigger bite of the apple"
Microsoft talk up their Windows Store in Windows 8.

Published Tue, Dec 6 2011 8:47 PM CST
|
Updated Tue, Nov 3 2020 12:30 PM CST
AllThingsD have some live coverage from a just-held Microsoft event, where they talked about their upcoming Windows Store that features in their next OS, Windows 8. Windows President Steven Sinofsky was on hand, as well as Windows Web Services VP Antoine Leblond.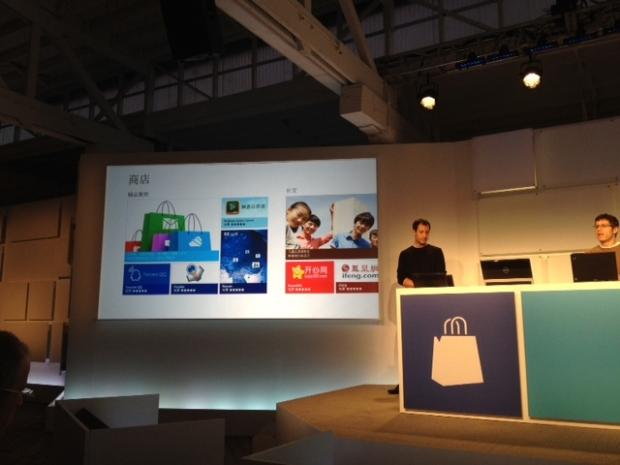 Both took the stage and talked up the Windows Store, where a fair amount of information was unleashed onto the public. First off, Microsoft are promising the best economics of any app store by saying "we're going to give you a bigger bite of the apple". I don't know if that could be put in better words, but I love it.
Leblond recapped that Microsoft is proud to have Windows 8 working on ARM and x86 chips, small and big computers, with "it's the biggest and most significant developer opportunity ever", he promised. Windows Store is set to offer some differences to what the Apple App Store and Google Android Market offer, by giving free trial versions of apps, Leblond says "the best advertisement for your app will be the app itself," and I totally agree.
Where did the days of shareware go?
Microsoft's first mentioned partner is Disney, where they're bringing their online books and magazines to Windows 8. Popular game "Cut the Rope" is being converted from trial to paid, with Leblond adding "we're super excited to have this app on Windows," adding that the Windows version, unlike the Android and iOS variants, was all written in HTML 5 and Javascript. "You can build hardcore games using these technologies," he says.
Leblond also reiterated the scale of Windows, noting that there are more than 1.25 billion PCs on the planet, saying "it's a ridiculously huge number", noting that there are more PCs on Earth than cars. He also added that there will be more than 400 million new x86-based PCs in the next 12 months. Leblond also compared "apples to apples to apples", with Windows, Apple and Android number sales over the last two years.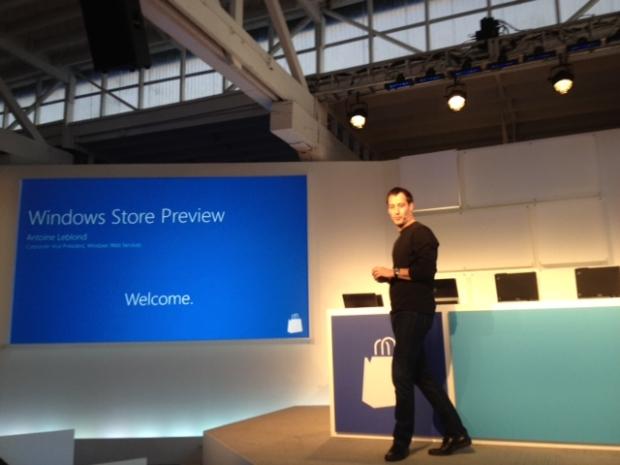 Microsoft have shipped an amazing 500 million Windows PCs since Windows 7 went live, compared to 247 million Android devices, 152 million iOS devices and just a paltry 30 million Macs. He says "the reach of Windows is just so much bigger," noting that if you added up all of the rivals and combined the numbers, it still doesn't add up to the number of Windows-based machines sold.
Leblond also stated that Microsoft will localize the store in all the languages that Windows is localized in (more than 100) payment mechanisms in 230 markets. In the top 40 markets, they will have local pricing and will pay developers in 20 different currencies. Leblond also takled that rivals have "too many constraints," specifically pointing toward how Apple stands between publishers and their customers by taking 30-percent.
Leblond says "we're going to be taking a different approach," where there'll be mechanisms for in-app purchases and trial apps built into the store. A demo from The Daily Telegraph was shown, where it was able to handle its own subscription back-end using its authentication and purchasing mechanisms, something that Apple just doesn't allow. Leblond adds" it's not an app you could have on the iPad," at least without giving Apple a cut and using their authentication and payment mechanisms.
Microsoft also discussed their application approval process, saying that there are two extremes. Android Market has virtually no checks ahead of launch, but then Apple has a stringent, sometimes opaque process. Microsoft wants to sit in-between this too easy, but not too hard process. Where they'll offer developers the tools Microsoft will use to check their code. "It is the same checks that we are going to use," says Leblond.
What cut will Microsoft take from the app purchasing? Leblond said the goal was to return most money to developers, where pricing can be from $1.49 to $999.99, "a thousand bucks is just too much for an app," he said. Microsoft will start by taking a 30-percent cut, but after the app makes $25,000 in sales and in-app purchases, Microsoft will drop this amount to 20-percent.
Google's Chrome Web Store for comparison sake takes 5-percent, Mac and iOS app stores grab 30-percent.
Store will debut with the beta of Windows 8 which is slated for late February 2012.
Related Tags