Intel demonstrates 512MB Hybrid Memory Cube DRAM operating at 1Tb/s
Around 12 times faster than DDR3-1333.

Published Tue, Dec 6 2011 12:35 AM CST
|
Updated Tue, Nov 3 2020 12:30 PM CST
Earlier today in Taipei we attended the Intel Innovation & Research Forum 2011 where bigwigs from Intel Labs were in town to showcase what they have in store for the future of computing. Besides announcing further cooperation with research institutes in Taiwan, they also had some super techy and nerdy demonstrates on display in the showcase area of the event.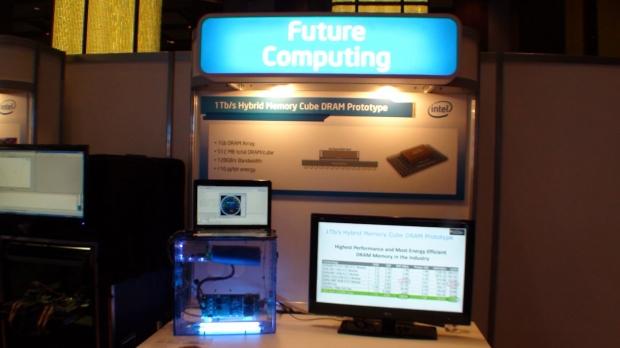 One demonstration that quickly caught our attention was the Hybrid Memory Cube display which was showcasing potential future memory technology in the mainstream running at a stunning 1Tb/s or 128GB/s.
[img]2[/img]
Not only is the memory able to operate super-fast at around 12 times faster than DDR3-1333 (10.66GB/s) and DDR4-2667 (21.34GB/s) at around 6 times faster, it also uses less power per bit. DDR3-1333 uses 53.98 pj/bit and Intel's HMC Gen1 512MB Cube uses just 7.78 pj/bit.
[img]3[/img]
It gets super technical really quick, but what you can take away from this is that Intel and its partners such as Micron are working really hard on future processor and memory technology to feed the requirements of future extremely intensive applications in the years ahead.
Related Tags