Facebook HQ is located at 1 Hacker Way
Facebook's address: 1 Hacker Way.

Published Tue, Dec 6 2011 4:18 AM CST
|
Updated Wed, Mar 10 2021 1:19 PM CST
Facebook are moving to some new [evil?] headquarters with a most interesting address. Apple have 1 Infinite Loop, Genentech have 1 DNA Way, Microsoft have 1 Microsoft Way and now Facebook have joined the club with 1 Hacker Way, Menlo Park, 94025.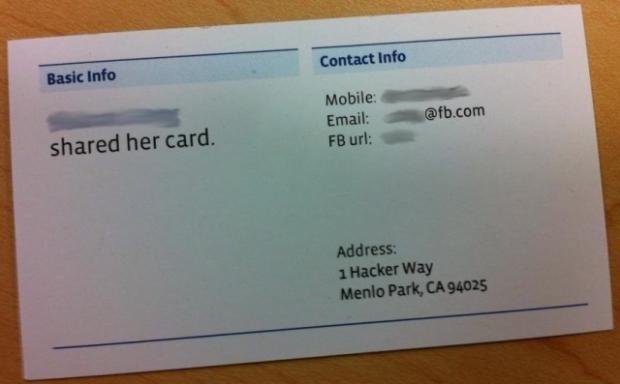 As seen above on a new business card from a Facebook employee, the new address is baldly displayed. Facebook were looking at a name of 1 Social Circle, but that is pretty close to Google+ with its Circle friends list, which obviously led to Facebook choosing a different name.
Facebook are in the process of transitioning between their current Palo Alto buildings to the new Menlo Park HQ.
Related Tags