PlayStation 3 owners get to go Back to Karkand tomorrow, PC and 360 owners in one more week
Back to Karkand goes live on the PS3 tomorrow.

Published Mon, Dec 5 2011 9:19 PM CST
|
Updated Tue, Nov 3 2020 12:30 PM CST
Good news PlayStation 3 Battlefield 3 gamers! Back to Karkand launches tomorrow for the PS3, a week ahead of when PC and Xbox 360 games will get the B2K love. Back to Karkand features four old-school Battlefield maps reimagined using the Frostbite 2 engine.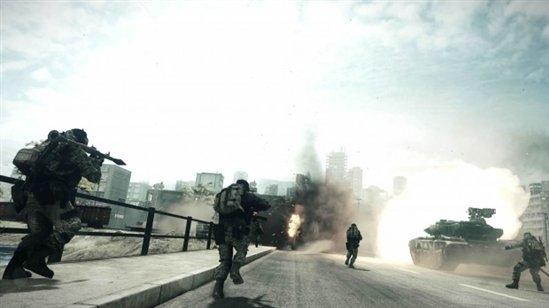 It also includes three new vehicles (the VSTOL fighter jet, Desert Buggy, and an APC), ten new weapons that you can bring back to the base game, and a new layer of persistence with DICE's all-new "Assignments" make this a must-have for any Battlefield fan. DICE have also included some of the best maps such as Wake Island, Sharqi Peninsula, Gulf of Oman, and Strike at Karkand.
Not only that, but DICE have also upped the destruction, where "huge portions of these maps can be razed to the ground", while the buildings may go down, this excites me and makes me go up. DICE have given some more details on the "Assignments" inclusion in B2K:
We're also introducing the Assignments system. For example, to complete the "Let it Rain" assignment players must score 20 kills with Light Machine Guns and two mortar kills. When you have met the requirements, you will unlock a new Back to Karkand weapon (with a matching set of dog tags) to use in Back to Karkand and the original Battlefield 3 maps, which will mix in server rotation. You will also unlock the next Assignment in the series, the new Creeping Death Assignment.
These are the five new trophies that you can hunt down in Back to Karkand:
Complete Warrior (Silver)
Get a kill with the following weapons in a single life: Rifle, Jet, Tank
Third Tour (Bronze)
Get a kill with the new APC, Desert Buggy, and STOVL fighter jet
Gunslinger (Bronze)
Get 10 kills with all B2K weapons
Like a Boss! (Silver)
Get a kill with the skid loader
Jaws (Bronze)
Take a swim in the pool at the Oman hotel
Related Tags