Apple TV is coming, details are finally worming out of the apple
Apple TV is really coming, set to be twice the price of current equivalent TVs.

Published Thu, Dec 1 2011 11:12 PM CST
|
Updated Tue, Nov 3 2020 12:30 PM CST
I didn't think this would be this soon, details on Apple TV, but here we go. Apple analyst Gene Munster has reiterated his belief that Apple is set to launch a TV in 2012.
Munster made the comments at Business Insiders' IGNITION: Future of Media conference this morning. Gene is so sure that Apple TV is coming he told anyone thinking of buying a new TV set to actually wait, because Apple's TV is going to be that awesome.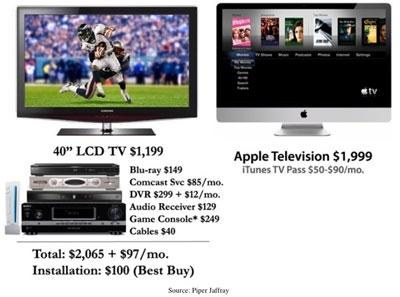 Here are some details:
Gene thinks the Apple TV will be a full-fledged TV set, not an external gadget like the current Apple TV that you have to plug into your TV set.
This is because Apple thinks people hate to plug in external gadgets (and Apple is obviously right about that, though it will still be startling if people are willing to pay a huge premium for an Apple TV just to avoid plugging in a $100 gadget).
Gene thinks Apple TVs will come in a range of sizes, in contrast to most Apple products, which are one-size-fits-all. Part of Apple's goal here, Gene says, will be to appeal to young Apple fanatics who can't afford or don't have room for a 50-inch flat screen.
Gene thinks Apple's TVs will be priced at TWICE the prevailing market price for a normal TV: $1,600, for example, for a TV of a similar size from another manufacturer that might cost $800. (If this is really the case, Apple will be able to preserve its extraordinary profit margins).
The magic of Apple's TV, Gene says, will be seamless integration with your other Apple devices and service. The TV will come with a standard remote, but you'll also be able to control it with your iPhone or iPad or via Siri. You'll also be able to download console and other games, content, etc., from iTunes, the App Store, and iCloud.
Apple's TV, Gene says, will be the first TV that thinks the way you do. Instead of trying to remember what channel is ESPN is on, for example, you'll just fire up (or say) "ESPN."
You'll still have to have a cable subscription and cable box, Gene says, because Apple doesn't have enough content otherwise. But the only thing you'll have to do is screw the co-ax cable into the back of the TV set.
Gene thinks Apple will launch its TVs for the holiday season next year.
Related Tags