AMD to exit the x86 CPU market?
AMD to bulldoze out of the x86 CPU market?

Published Tue, Nov 29 2011 9:24 PM CST
|
Updated Tue, Nov 3 2020 12:30 PM CST
This is kind of not unexpected, but there are rumors that AMD might be exiting the CPU market, probably from the unsuccessful launch of Bulldozer and the constant #WINNING of Intel's Core range of processors.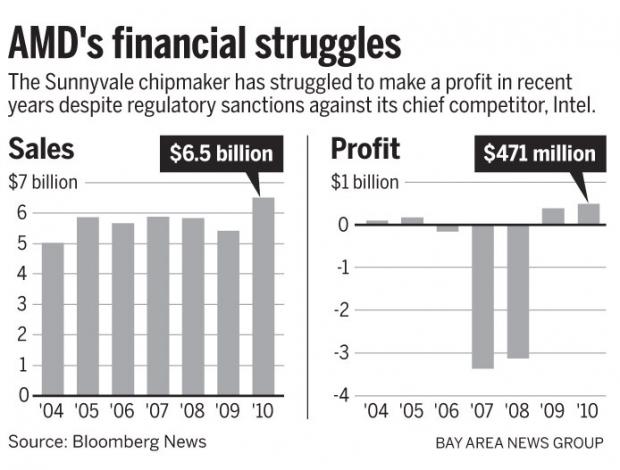 Mike Silverman, AMD company spokesman has said:
We're at an inflection point. We will all need to let go of the old 'AMD versus Intel' mind-set, because it won't be about that anymore.
What AMD does from here is unknown, but we all know that they just cannot compete with Intel at the high-end. They cannot compete with Intel at mid-range and market penetration of Intel's brand is far too strong and has been for quite a while now. AMD are late to the game in virtually every market, even smartphone and tablet technology. The only market they have a strong foot in is the graphics market.
This is set to change over the next few years as consoles show their dominance and mid-range GPUs will be able to offer 1080p at 60 frames-per-second performance, gone will be the high-end SKUs that are $600+, and gone will be CrossFire X requirements apart from benchmarking, enthusiasts and multi-monitor setups.
CPU-wise, it seems they're done for. This could mainly be based on bad management, as they would've known how Bulldozer was going to perform at least 18 - 24 months ago, compared to the Core CPUs from then, it can barely do any damage. Bulldozer was a mistake, and I think management can be blamed there, direction, participation with engineers, everything adds up and has resulted on Bulldozer's launch.
This is bad news for PC enthusiasts, as it will only drive prices of Intel's parts up. We're seeing this now with prices going up as well as the launch of Sandy Bridge-E and Ivy Bridge, which are just slight performance improvements and tweaks, yet are launched as "new" products. Something I agree with. We're not seeing any huge improvements over the 2-year-old-plus LGA1366 socket from Intel.
If AMD turns into a graphics card only company, it will only spell doom. Consoles are hurting high-end GPUs, and without high-end GPUs, there's no real need for huge improvements in performance. Just tweaking and a new core released every few years.
Are the days market for the enthusiast? The high-end gamer? It seems as though this is a definite future for us now...
Related Tags