RumorTT: NVIDIA's 28nm Desktop GPU roadmap revealed - no high-end GeForce card until 2H 2012?
RumorTT: No high-end NVIDIA GeForce GPU until the second half of 2012.

Published Sun, Nov 27 2011 6:58 PM CST
|
Updated Tue, Nov 3 2020 12:30 PM CST
We have a juicy rumor today from Japanese website 4Gamer and VR-Zone in the form of a roadmap for NVIDIA's upcoming 28nm Kepler GPU line-up for desktops. Kepler's rollout will be bottom-to-top, starting with the mainstream GK107 chip in Q2 2012.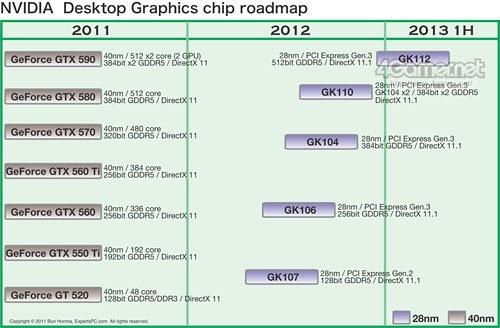 High-end parts such as the GK110/GK112 will not see the light of day until later in the year. All Kepler GPUs will be manufactured on TSMC's 28nm process, use GDDR5 memory and include support for DirectX 11.1 that will be included in Windows 8.
We should see the GK107 mainstream part in Q2 2012, which features 128-bit memory, and should land in notebooks first, with a desktop release shortly after. GK107 also only supports PCI-Express 2.0. GK106 is set to be the mainstream performance part, replacing the current NVIDIA gem, the GeForce GTX 560. This should sport a 256-bit memory bus, with a release sometime in late Q2 2012.
The top single GPU part is the GK104, featuring 384-bit 1.5GB of GDDR5 memory. GK104 is rumored to push 2 TFLOPS, 30-percent higher than the current GTX 580. But, all on the smaller die. 4Gamer claims it will consume over 250W of power, and should be ready for desktops in the middle of 2012, possibly during Computex.
After what should be the GTX 680, will be the dual GPU GK110.
Think we're all done here? Nope. After this, within a 6 month period in either Holiday season 2012, or early 2013, we should expect a return to the massive die from NVIDIA. What to expect? GK112, which sports a 512-bit memory bus. This is the part we should be excited about.
Disappointed in hearing of a rumored 30-percent increase in performance over the GTX 580? There aren't many games that will push these high-end parts anymore and I personally think we're going to see a much tighter control in terms of offerings and pricings of the mainstream/mid-range products. Benchmarkers and enthusiasts will always go for the high-end parts, but with less and less games including built-in benchmark programs, how are sites meant to test the cards in a proper, boxed-in setting?
I guess we'll see how things pan out over the next few years.
Related Tags