Nintendo builds real-life Mario Kart, has help from West Coast Customs
Nintendo and West Coast Customs build real-life Mario Kart.
Published
0 minutes & 46 seconds read time
Nintendo has a grand PR stunt for the launch of Mario Kart 7 which launches on December 4 on the Nintendo 3DS portable gaming console; real-life replicas of the classic Mario Kart and Luigi Bumble V Kart. Yes, real-life replicas!
The replicas were built by West Coast Customs, who are known for their awesome work on the MTV series "Pimp My Ride." Mario's shiny red go-kart comes complete with its glider attachment for flying. Luigi's go-kart includes a cool rear propeller that's used for underwater navigation. In the below picture is Reggie Fils-Aime, president of Nintendo of America: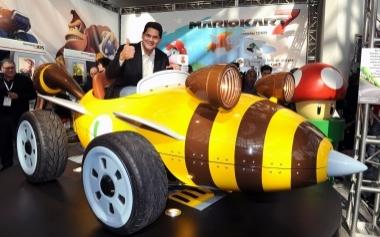 The karts will sit on display at the LA Auto Show, November 18-27 at the Los Angeles Convention Center. But, there's a really good thing coming from Gamespot here. A competition for the chance to take one of these bad-ass looking go-karts home! The competition is through GameStop's PowerUp Rewards program, where a PowerUp member must make a purchase or trade in a game at GameStop in the month of December.
That's it!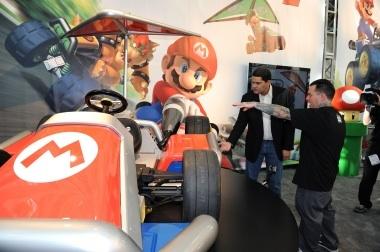 Lastly, in an episode "Inside West Coast Customs" to air early next year, it will feature how the go-karts were made.
Related Tags