If you're just getting over this week's launch of Intel's Sandy Bridge-E CPUs, you might want to hold your breath just a little bit longer. Less than a week since its launch, Sandy Bridge-E is now sounding old with its successor taking shape over at Intel, with a release date for Q4 2012.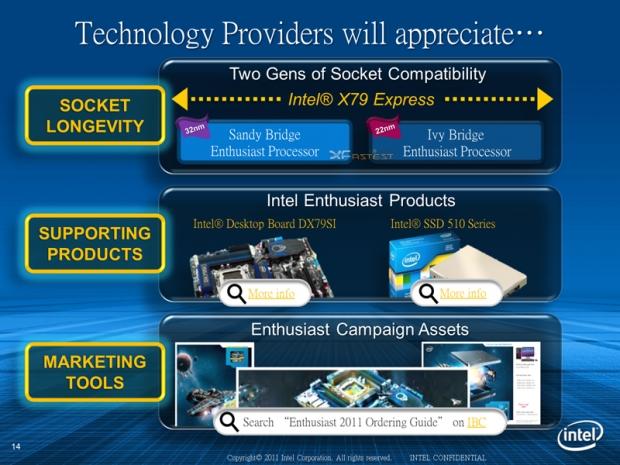 That's not the good part, the good part is that according to a leaked internal slide scored at XFastest, Ivy Bridge-E will be compatible with today's Intel X79 platform, and LGA2011 socket. This makes a SB-E upgrade that much better, as 12 months from now you can just buy an Ivy Bridge-E CPU, slot it in and away you go. You might need a BIOS flash to get there, but it makes a SB-E upgrade not so scary.
Ivy Bridge-E will be built on a 22nm silicon fabrication process, and shouldn't be much more than a shrink of SB-E. We could see the shrink allowing some headroom for enabling some of its components that have been locked away for SB-E. The fastest SB-E silicon physically holds 8 cores and 20MB of L3 cache, but the fastest SB-E-based Core processor has just six of those cores, and 15MB L3 cache enabled.
We might see a 16-core chip with 20MB-plus cache with Ivy Bridge-E. I think I just got excited, I just need to be hooked up with a SB-E chip, motherboard and RAM now. Does anyone want to send me an early Christmas present?