ARM brags their next-gen chip brings PS3 level performance, challenges rivals to an ARM wrestle
ARM's Mali-T658 is set to introduce some serious powerhouse performance, competes with PS3-level per.

Published Fri, Nov 11 2011 12:19 AM CST
|
Updated Tue, Nov 3 2020 12:30 PM CST
ARM have just announced its next-generation mobile GPU, the Mali-T658. ARM have said that this design is set to offer ten times the performance of their current Mali-400 MP which is found in smartphones such as the amazing Samsung Galaxy S II handset.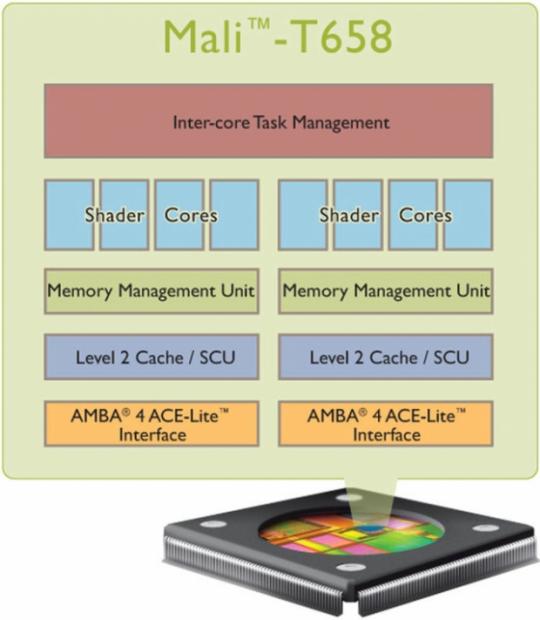 T658 is ARM's second GPU using an architecture it calls Midgard. Midgard is designed to support both 3D workloads using modern APIs, with support for both OpenGL ES and Microsoft's Direct3D 11, and computation workloads using OpenCL, Microsoft DirectCompute, and Google RenderScript. Compute tasks get some love, with Midgard supporting full IEEE 754 floating point.
The first Midgard design, the T604, was announced last year, and was licensed by companies such as Samsung and LG. The new T658 is quite the powerhouse, with each core having four arithmetic pipelines, and one each of load/store for texture, doubling the number of arithmetic pipelines found in the T604. Up to eight cores can be integrated into a single GPU, again representing a doubling in performance relative to T604, which allows up to four cores to be ganged together.
The results? Performance that ARM claims is comparable to that of Sony's PlayStation 3 console. Mali-400 MP is specced as offering about 30 million triangles per second, and with T658 offering ten times the performance, we should see roughly 300 million triangles per second. To compare, the PS3 has performance of around 250 - 300 million triangles per second.
Do you know see, along with Tegra 3, that smartphones and tablets are going to overshadow consoles in the near future? If only we had an article to cover this!
Related Tags