Ultrabooks are set to account for 43-percent of worldwide notebook shipments by 2015, just four short years away, despite the devices have only just started hitting the market. An Ultrabook is designed as being a notebook that is very light and thin, at under 0.8-inches.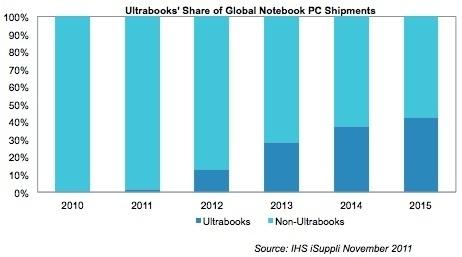 Feature-wise, they sport more tablet-orientated hardware such as instant-on activation, always connected wireless links, SSDs and batteries capable of delivering more than eight hours usage from a single charge. IHS iSuppli research has led to these results and predictions for 2015, where they said in a press release:
Ultrabooks will represent 43 percent of global notebook PC shipments in 2015, up from 2 percent in 2011 and 13 percent in 2012. Following their first year of shipments in 2011, Ultrabook penetration of the notebook market will increase rapidly, rising to 28 percent in 2013 and to 38 percent in 2014.
With Acer and ASUS with Ultrabooks already on shelves, it's only the beginning of things to come. Notebooks in general are facing a very large threat from the onslaught of non-stop tablet introductions and announcements, with Ultrabooks coming in to be the in-betweeners. Ultrabook designs based on Windows 8 and future Intel processors are set to combat the arrival of higher-end tablets such as those sporting NVIDIA's quad-core Tegra 3 chip.
Intel have previous predicted that Ultrabooks would account for 40-percent of the market by 2012, but that sounded like quite the stretch. This forecast seems much more reasonable considering they're really only putting their feet on the ground as we speak. Time will tell, I guess.