Ivy Bridge isn't even here yet, and we're seeing details on Intel's next-generation processor architecture, Haswell. Haswell will be a brand new architecture based on a 22nm fan process which will be matured by Sandy Bridge's successor, Ivy Bridge. This is Intel's "tick-tock" product development model, where we see a "tock" being a new x86 architecture, and a "tick" miniaturizes it to a newer silicon fabrication process.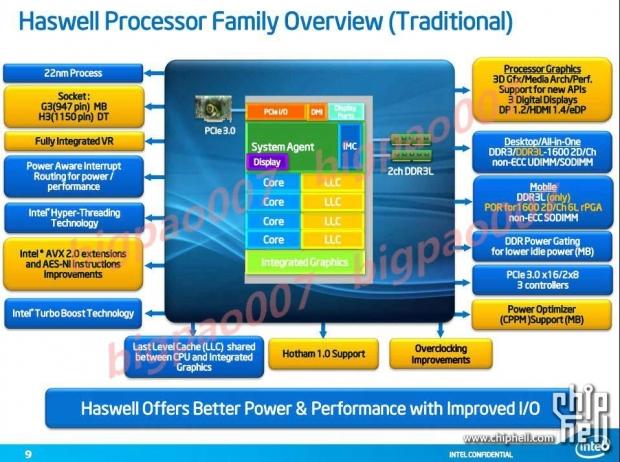 If Intel's 22nm process all goes to plan, Haswell has an ETA of Q2 2013, with Ivy Bridge taking the lead from Q2 2012 until then. Haswell will feature an all-new socket, LGA1150, which means it will not be compatible with LGA1155 boards. The reason behind this is that Intel have implemented drastic changes in the pin map of the package.
There has been a major change with the component arrangement in the platform that is affecting Haswell's pin map, more specifically, it's Haswell's higher bandwidth chipset bus, rearranged PCIe pins (with FDI pins), rearranged power pins, and miscellaneous pins. It also throws away the separate power domain for the integrated graphics controller.
[img]2[/img]
What does Haswell introduce that we haven't got right now? It includes the next-generation RapidStart quick boot capabilities that reduce cold-boot times to 2 seconds. The processor's IPC will be increased over Ivy Bridge and the mobile version is set to include features that will reportedly increase battery life of mainstream notebooks. Haswell also sports improved media HD to HD transcoding capabilities.
[img]3[/img]
It also brings in NFC (near-field communication), and Thunderbolt (finally!) to the masses. The platform that Haswell uses is called "Shark Bay", and will be available in 2-chip quad-core and 1-chip dual-core variants. The quad-core chips and some dual-core chips will use the usual socketed motherboard with a single-chip chipset (PCG) which is smaller than today's PCH chips, while some dual-core chips will completely integrate the PCH into the processor's package, eliminating an external chipset. The dual-core chips will be available in BGA packages.