Any reason to show off some more Sandy Bridge-E / X79 related goodness is a good one, especially now with it being one of the hottest topics thanks to the launch right around the corner. And thanks to Biostar we can give you some more of it with pics and details on their upcoming TPower X79 motherboard for the next-gen LGA-2011 platform from Intel.
The board, while being by Biostar who tend to be renowned for delivering a more no frills, lower priced piece of hardware, looks to be quite strong by design overall, with no real shortcomings over the many other X79 motherboards we've been lucky enough to see pre-launch; unless of course you compare it directly to something like ASUS' Rampage IV Extreme.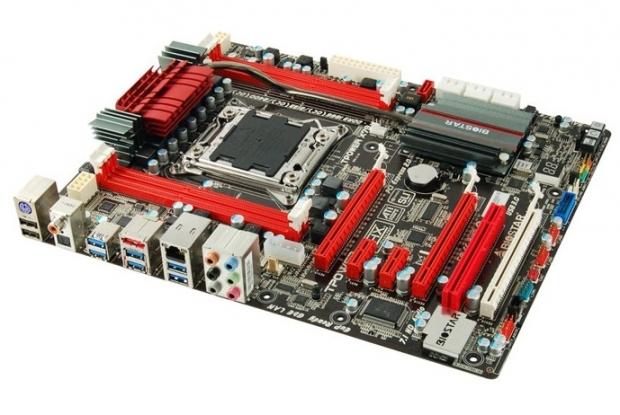 The TPower X79 uses an impressive looking 8-phase DuraMax VRM power setup with active phase control and direct FETs. There are two 8-pin EPS connector points on the board along with the 24-pin ATX as well as an optional 4-pin Molex used for added PCIe slot stability. The board also sports POSCAP capacitors in the CPU area along with a high quality clock generator. This together with Biostar's history of producing more simplified OC'ing motherboards that gave some record-setting results gives reason to believe the TPower X79 could be a real force to be reckoned with in the overclocking stakes for Sandy Bridge-E.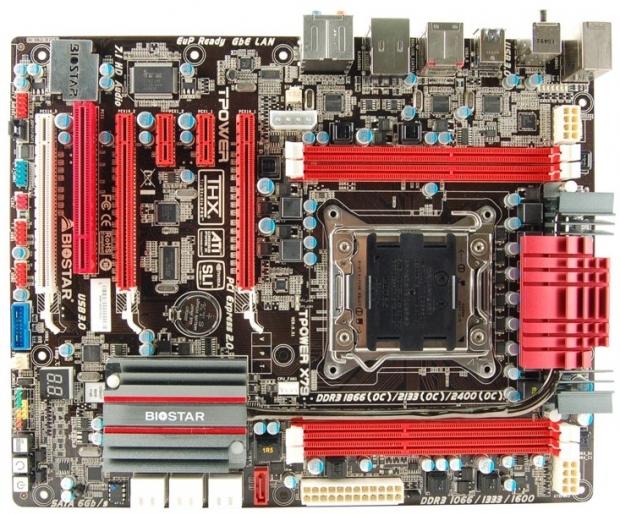 There are only four DDR3 DIMM slots on this board, but each slot gets its own channel and it's really ideal for overclockers thanks to the shorter memory tracing used. Biostar gives support for up to DDR3-2400MHz on this board via overclocking.
Expansion slot wise, there are a couple PCI-E 3.0 x16 slots (always at x16 regardless of what other slots are used), another PCI-E 2.0 x16 slot (running at x8), a couple PCI-E x1 and a legacy PCI thrown on. Storage wise, you get six SATA 6Gbps ports, two via the X79 PCH and four using third party controllers, a single red SATA 3Gbps port from the PCH (ideal for the optical drive) as well as an eSATA 3Gbps on the rear I/O, also via the PCH.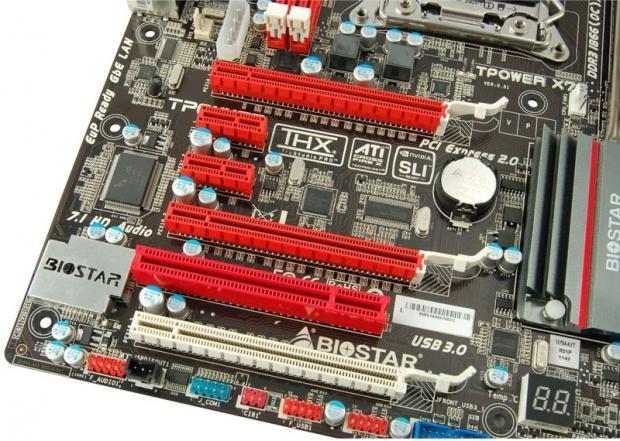 Rounding out the remainder of the TPower X79's feature set, there are eight USB 3.0 ports (six via the rear panel and two from onboard headers), a gigabit ethernet port and 8+2 channel HD audio with a funky EMI shield surrounding the audio CODEC.