Debut of the first GTA V trailer is imminent!
Less than 40 minutes to go folks!
Published Wed, Nov 2 2011 10:20 AM CDT
|
Updated Tue, Nov 3 2020 12:30 PM CST
Looking for a good reason to stick around online for a bit longer before heading out / into the lounge / to bed? - Well now you've got one. A real good one, especially if you're a Grand Theft Auto fan.
The GTA V trailer premiere is upon us, which we first knew was coming about a week ago when Rockstar officially revealed plans for the next instalment in the series via some artwork and a date of release for the aforementioned trailer.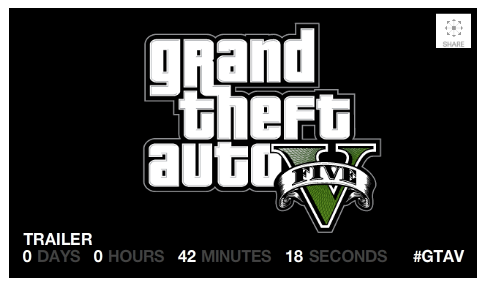 There's only about 42 minutes to go at the time of writing; with the set time of its debut being 9am PT. Just hang out via this link where you will see a live countdown for it! - It's anyones guess at this stage what Rockstar plans to do for this killer series this time around, so hopefully the trailer gives a few good signs of which direction they're taking things to get us super excited!
Related Tags