RumorTT: Apple to discontinue Mac Pro line?
RumorTT: Apple reportedly questioning the future of the Mac Pro.

Published Wed, Nov 2 2011 2:18 AM CDT
|
Updated Tue, Nov 3 2020 12:30 PM CST
Even though Sandy Bridge-E is about to drop, Apple might not be interested in investing anymore time or money into their full-size workstation line outside of this year because of limited sales of the Mac Pro. Apple has reportedly developed a revision to the Mac Pro, that may or may not even get released according to people familiar with the matter said management as far back as May of this year.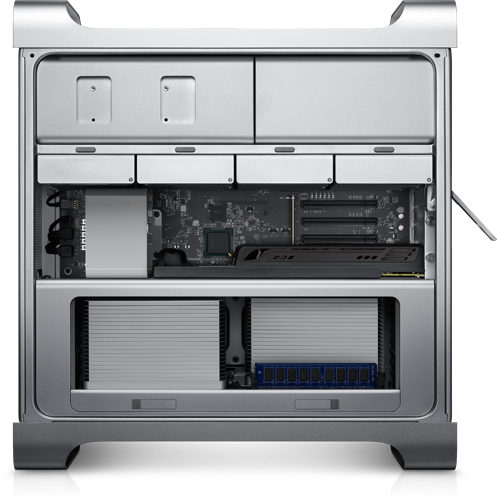 Apple have reportedly had discussions about the future of the Mac Pro, and that their days were inevitably numbered. Internal discussions have gone as far as mentioning that the sales of the Mac Pro to both consumers and enterprises have dropped off so considerably that the Mac Pro is no longer a particularly profitable operation for Apple. Then there's the Thunderbolt issue.
Thunderbolt was introduced this year, and allows the other, more popular members of the Mac family to assume the vast majority of the roles that once required the high-end Mac Pro's.
At the moment, notebooks make up 74-percent of Apple's computer sales, according to sales figures and comments by CFO Peter Oppenheimer in Apple's quarterly earnings conference call this month. Quarterly Mac sales have recently set an all-time record of 4.89 million units, with desktops being an increasingly small proportion of overall sales, there were still record sales of desktops, represented by the ever-so-triumphant iMac.
Apple could walk down a different path, choosing to spec-up the current iMac or offer a suped up Mac mini that packs enough of a punch to compete with the current Mac Pro. This would not only simplify the product line up, but it would also have a limited impact on sales. This would save Apple the time, effort and marketing of another Mac Pro being pushed out onto the market.
Related Tags