PC gaming hardware market is said to remain strong well into 2014
PC gaming hardware market is still strong, will remain so well into 2014.

Published Wed, Oct 26 2011 11:08 PM CDT
|
Updated Tue, Nov 3 2020 12:30 PM CST
Jon Peddie Research says that the PC gaming hardware market will continue to grow at a rate of 11-percent from now until at least 2014. These figures are based on the fact that over 250 million game-capable PCs will ship in 2011 alone, compared to only 230 million PS3, Wii and Xbox 360 consoles (combined) have shipped since 2005.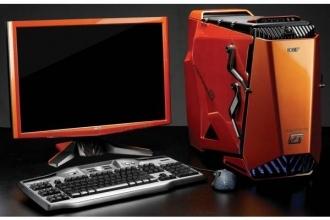 The PC gaming market will generate $19 billion in sales in 2011, with estimates that half a billion people regularly play PC games. New markets such as social networking and mobile gaming on tablets and smartphones are continuing the threaten the PC's gaming reputation, a phenomenon that senior gaming analyst Ted Pollack noted in his research.
We are starting to see mobile computers dig into the sales of low end PCs a bit. Consequently this has actually increased the average gaming purchase motivation for mainstream desktops and notebooks because some people with very low computing requirements have been taken out of the denominator, and the potential customer base for desktops and notebooks is more concentrated due to their superior performance in graphically intense applications.
PC gaming will always be great - but any smart person can see it is definitely not in its glory days right now. With 90-percent or more of AAA games being developed and made for consoles first and filtered down (or up) to PCs, it really hurts. Battlefield 3 is the first game in a very long time to be developed on PC first, then ported down to the much lesser capable consoles. But, there's no real reason to buy 3 or 4-way AMD or NVIDIA graphics these days, if you're running a single screen.
For triple-monitor setups, of course... but even then, games aren't optimized enough to justify the cash outlay on systems like that. Battlefield 3 is a new path though, something I'm very, very excited about. Hopefully other developers look at it and think "wow, is that what we can achieve if we create a new engine and concentrate on PC first?". Let's hope so.
Related Tags