Windows XP turns 10 today, kicks feet up and begins retirement with a glass of scotch
Windows XP is 10 years old today!

Published Wed, Oct 26 2011 2:35 AM CDT
|
Updated Tue, Nov 3 2020 12:30 PM CST
My, my, how time has flown by. I still remember triple-booting my PC with Windows 98SE, Windows 2K and Windows XP, how has ten years gone by? Microsoft include the infographic below, which is not only cool, but it shows just how long ago 2001 was with all of the old technology (or lack thereof).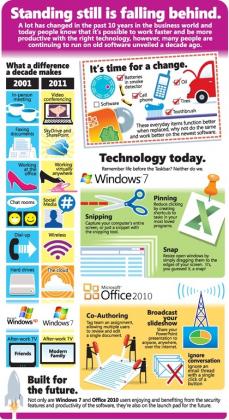 For example, in 2001 we have in-person meetings, now we have video conferencing. Working at the office, can now be done anywhere (such as me posting this news out to the world, I can do so in my boxer shorts and you wouldn't even know it - begin dreams, now). Chat rooms have been swapped for social networking, dial-up for broadband/Wi-Fi, and hard drives for "the cloud".
Microsoft also try to get people to upgrade by saying that batteries in smoke detectors, oil in your car, tires on your car, toothbrushes, and cell phones all require replacing at some point. I guess this is a push to "why haven't you upgraded to Windows 7 yet?". Going back to 2001, or Windows XP feels like a step into a time machine. Isn't it funny that at the time, it was so "magic" and "revolutionary", and now it feels like a bad hair-do, or those really embarrassing clothes that you wouldn't want to be caught dead in*.
*no offense to Windows XP users intended, but "it's time for a change".
Related Tags