ASUS Sabertooth X79 motherboard video preview
Toned down cooling, but much smarter and loads of monitoring.

Published Tue, Oct 25 2011 10:59 AM CDT
|
Updated Tue, Nov 3 2020 12:30 PM CST
Yesterday we attended an ASUS motherboard technology seminar in Taipei where we were introduced to its range of upcoming Intel X79 Express chipset based motherboards. These motherboards will support second generation Intel Core i7 processors for high-end desktop systems using the new and larger LGA 2011 socket.
Followers of ASUS will know the Sabertooth motherboard from previous generations and some will also be happy to know that it is back again with the X79 Express chipset. Impressive cooling is a big part of the Sabertooth and Jack Cheng who is with the ASUS motherboard R&D team and was kind enough to go on video and tell us about some of the ASUS driven features of this motherboard.
It's not just cooling though, with the included software powered by the impressive Digi+ VRM power control design you get really good monitoring (12 different parts of the board are digitally thermally monitored) and control over the board and all the different aspects of it using the included Thermal Radar software. There are no real big single handed massive features that will take the crown for the Sabertooth, but the message being sent is that it's "tough".
It's designed with "TUF" components and plenty of cooling to provide what looks to be very good stability under all sorts of conditions. The TUF thermal armor cooling design is said to reduce temperatures by up to 7.4 degrees Celsius on the USB 3.0 and back I/O panel ICs and there is also said to be a 5.4 degrees Celsius drop on the PCH area of the motherboard.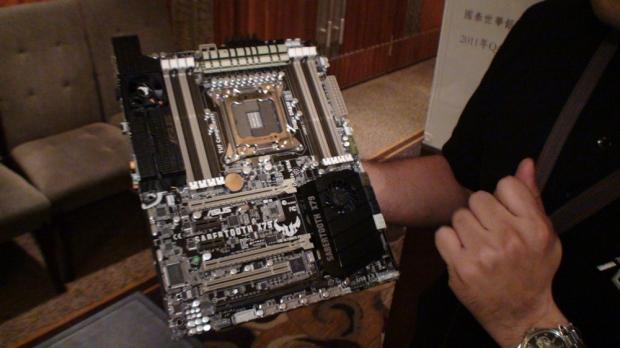 One of the additional features of the Sabertooth is ASUS SSD Caching. Some of you will know Intel SRT and it didn't get very good press on the Z68 platform and ASUS recognized that and have developed ASUS SSD Caching. It's similar to how Intel SRT works by adding an SSD to a system with a large HDD to improve performance on most commonly accessed data, but is much easier to use. All you need to do is install the included software and add in your SSD and enable caching, you don't even need to reboot. The Intel solution is fairly complicated, but this one is much easier to use from what we saw today.
Related Tags