Walter Isaacson's authorized biography of Steve Jobs is set to hit next week, and within, we find out more details of how Steve Jobs was absolutely furious about Android "ripping off" the iPhone. Of course, multiple smartphone makers and OS builders have "copied" the iPhone, but its not to say that Apple did it first.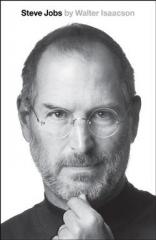 Apple bought something to the market that had been attempted before, but just did it better. Google were hot on the heels and have innovated multiple times within their Android OS, where Apple's iOS has not really grown outside of its initial iPhone launch. Yes it has been upgraded with more features, etc, but an actual change in the way it works, no. It still features the same tile-based icon layout, and has only seen "Notifications" in the last iOS 5 upgrade - something from Android.
But Steve Jobs hated, hated, hated Android. With a passion. To the point where he wanted a "thermonuclear war" with the company because they "ripped the iPhone off". Isaacson has written that Jobs was livid in January 2010 when HTC introduced an Android phone that boasted many of the popular features found on the iPhone. Apple sued, and Jobs told Isaacson in an expletive-filled rant that Google's actions amounted to "grand theft".
This is the bit I find the most shocking, so I'll quote Jobs here:
I will spend my last dying breath if I need to, and I will spend every penny of Apple's $40 billion in the bank, to right this wrong," Jobs said. "I'm going to destroy Android, because it's a stolen product. I'm willing to go thermonuclear war on this.
Now, I respect Jobs and all he did, and I'm saddened by his death and how his family will miss him, but wow. That is a pretty psychotic thing to say toward another company. Why can't there be healthy competition? Without Google, Microsoft, and many other companies, would Apple and the iOS products be what they are today? I doubt that.
The book explains the unraveling relationship between Jobs and former CEO of Google, Eric Schmidt. Schmidt was an Apple board member between 2006 and 2009, in which he quit Apple's board as Google and Apple went head-to-head in smartphones. Jobs after, used an expletive to describe Android and Google Docs, Google's Internet-based word processing program. In a subsequent meeting with Schmidt at a Palo Alto, California-based cafe, Jobs told Schmidt that he wasn't interested in settling the lawsuit.
I don't want your money. If you offer me $5 billion, I won't want it. I've got plenty of money. I want you to stop using our ideas in Android, that's all I want.