Microsoft earnings call: record Q1 revenue of $17.37 billion
Microsoft announces record first-quarter results.

Published Sat, Oct 22 2011 1:05 AM CDT
|
Updated Tue, Nov 3 2020 12:30 PM CST
Microsoft have had a very first... er.. first quarter ending Sept. 30, 2011. Microsoft posted a quarter revenue of $17.37 billion, a 7-percent increase over the same period of last year and a tad higher than the expected $17.26 billion.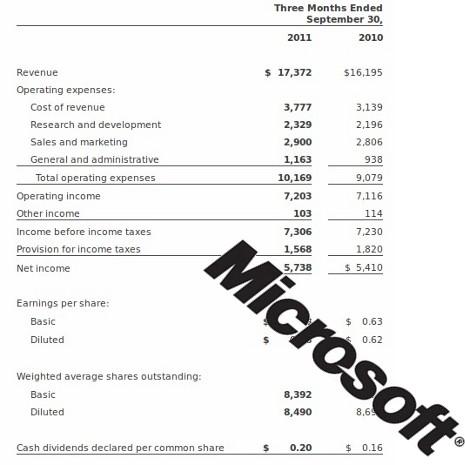 Office was the standout, though; Office accounted for $5.62 of that income, with Windows staying flat and actually falling below expectations. Microsoft's net income of $5.74 billion was a decent jump of 6-percent over the same time last year.
Peter Klein, chief financial officer at Microsoft says:
We saw customer demand across the breadth of our products, resulting in record first-quarter revenue and another quarter of solid EPS growth. Our product portfolio is performing well, and we've got an impressive pipeline of products and services that positions us well for future growth.
Since July, Microsoft have reported a number of product and business highlights, including:
The Microsoft Business Division reported $5.62 billion in first quarter revenue, an 8% increase from the prior year period which included the launch of Office 2010. Revenue from Microsoft's productivity server offerings - including Lync, SharePoint, and Exchange - grew double-digits, and the Dynamics business grew 17% in the quarter.
The Server & Tools segment posted $4.25 billion in first quarter revenue, a 10% increase over the prior year period and the sixth consecutive quarter of double-digit revenue growth. Microsoft also unveiled a developer preview of "Windows Server 8" at the BUILD developer conference in September.
Windows and Windows Live Division revenue was $4.87 billion, a 2% increase over the prior period, in line with the PC market. Windows 7 momentum continued with over 450 million licenses sold since launch. At the BUILD conference, Microsoft showcased and released a developer preview of the next major release of Windows, "Windows 8."
Windows Phone 7.5 released with a broad array of new features, and received favorable reviews.
Bing organic US market share grew 350 basis points year over year to 14.7% while Bing-powered US market share, including Yahoo! properties, was approximately 27%. The company also showcased the increasing integration of Bing across other products such as Xbox and Windows Phone.
Xbox was the top-selling gaming console in the US for the ninth consecutive month. The company launched the Gears of War 3 game with over three million copies sold in the first week, and announced plans to roll out the next generation of TV entertainment on Xbox LIVE with nearly 40 content providers starting this holiday season.
Microsoft completed its acquisition of Skype.
Related Tags