AMD's shares bulldozed by over 5-percent in the past week, over 50-percent in 6 months, thanks, Bulldozer?
AMD's shares slide 5-percent today, a sign of things to come?

Published Mon, Oct 17 2011 10:22 PM CDT
|
Updated Tue, Nov 3 2020 12:30 PM CST
Well, AMD's Bulldozer launched last week to much of the publics dismay. It did not really cause the ruckus that AMD probably expected, unable to trip up the current CPU champion, Intel's Core i7. AMD's shares have since seen quite the dip, with Friday, October 14 seeing their share price hovering at $4.90 per share, and now they've experienced a sharp decline of 5-percent down to the $4.70 or so per share mark.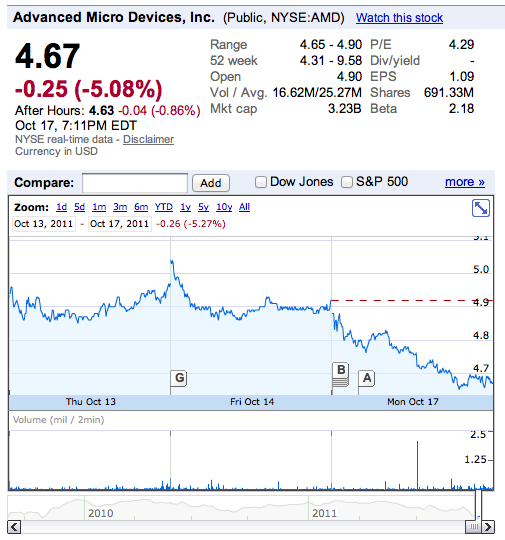 Thought that was bad? Well, I clicked on the 12-month period for AMD's shares and on Feb 25th, 2011 they peaked (for the 12-month period) at $9.29 per share... quite the slump they've seen. The point of this complete decline in shares saw it starting on Sep 16th, 2011 where it was sitting at $7.20, and has declined virtually everyday until Bulldozer's lacklustre launch. Did the industry know what was going to happen?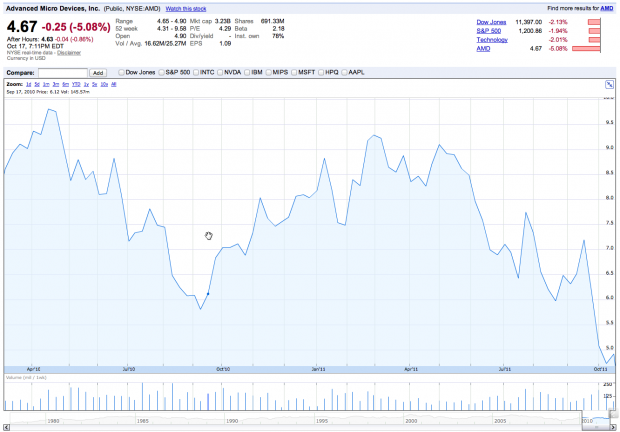 We can see that the shares over the past 6 or so months, have dropped by nearly 50-percent. This is not good, not good at all.
AMD's shares have seen quite the rise from the Radeon HD 6000-series launch, in mid-September of last year AMD's shares saw a nice rise from $5.81 to the peak of $9.29 in Feb of this year... but, all good things seem to have come to an end for their share prices right now. It looks as though AMD really need that HD 7000-series to ring the bell, and ring it ASAP before any more of their shares are bulldozed away.
Related Tags