Google's Q3 2011 results, $9.72 billion in revenue, $2.73 billion in net income, 1 very happy CEO
Google post Third Quarter 2011 financial results.

Published Mon, Oct 17 2011 4:29 AM CDT
|
Updated Tue, Nov 3 2020 12:30 PM CST
"We had a great quarter" says Larry Page, CEO of Google. Google has made $9.72 billion in revenue, an increase of 33-percent from Q3 2010. GAAP net income is $2.73 billion versus $2.17 during the same period last year. Google also reported $9.02 billion in revenue last quarter, with $2.51 billion in net income. Not bad, Google.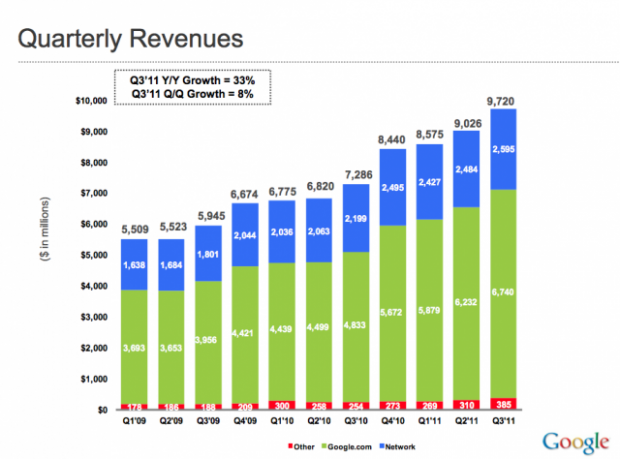 Analysts were expecting Google to earn $8.74 per share this quarter on a revenue of $7.21 billion, representing a more than 30-percent growth from last year. With these estimates, Google have blown away those expectations on both revenue and EPS, as non-GAAP EPS this quarter weer $9.72. Google has had a very active quarter, the acquisition of Motorola, and the public launch of Google's social networking site, Google+.
Google presently employs 31,353 full-time employees and has $42.6 billion in cash. Google's sales and marketing costs doubled from $661 million in Q3 2010 to $1.2 billion this quarter. Research and development costs went from $994 million to $1.4 billion. One of the more interesting items on the ledger... a $500 million charge from the Justice Department regarding pharmaceutical ads. Wow, spare change considering they have $42.6 billion in cash - hey Google, can I have a loan?
Related Tags