The latest Buzz on Google Buzz is that its getting shut down
Google shut down a bunch of projects, Buzz, Labs and a bunch of others gets the axe

Published Sun, Oct 16 2011 9:25 PM CDT
|
Updated Tue, Nov 3 2020 12:30 PM CST
Google are shutting down Google Buzz, its non-started Gmail-based social network that paved the way for such things as Google+. Google VP Product Bradley Horowitz wrote today in an announcement post on the Google Blog:
We learned a lot from products like Buzz, and are putting that learning to work every day in our vision for products like Google+.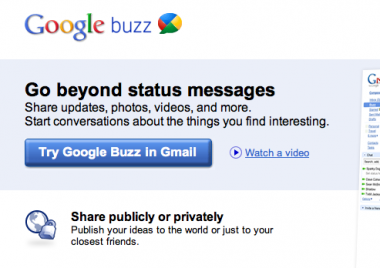 Old Buzz content is still ok, and will be visible on users' Google profiles, users will also have the ability to export their data from Buzz before it becomes unavailable. This should be in a few weeks. Google is also shutting down some other social products such as Jaiku and iGoogle social features, not only that, but Code Search and a program that gives academic researchers API access to Google Search results.
And as of today, the Google Labs site will no longer be available. Personally, I think that's the bigger news, a very bold move from Google. All of this news is in results of CEO Larry Page's housecleaning effort at Google. It feels like the closing down doesn't stop, with Slide and Aardvark also getting the axe, as well as many experimental projects.
Google has committed resources and focus to Google+, which now has 40 million registered users. Horowitz says "We are absolutely in a feature race".
Horowitz elaborated in a personal Google+ post:
What did we learn from Buzz? Plenty. We learned privacy is not a feature...it is foundational to the product. And this awareness gave us the resolve to design privacy in from the very beginning, which led to Circles for sharing the right information with the right people, as well as transparency around which parts of your profile can be seen by whom. We also learned how compelling it is to have meaningful conversations with interesting people, which we're happy to see happening all the time in Google+.
Related Tags