Raging about RAGE on PC? Well, look inside for some fixes
id Software's RAGE gets some user help, improvements and tips.

Published Thu, Oct 6 2011 4:00 AM CDT
|
Updated Tue, Nov 3 2020 12:31 PM CST
It was just yesterday I was posting about the negatively reviewed, RAGE from id Software, but today is another day and there are some things you can fix if you'd like to read below. RAGE suffers from tearing, massive texture pop-in, and just a total lack of graphical options to tweak and adjust. For the once great id Software to fall to their knees for some of that console pie... it's just very, sad.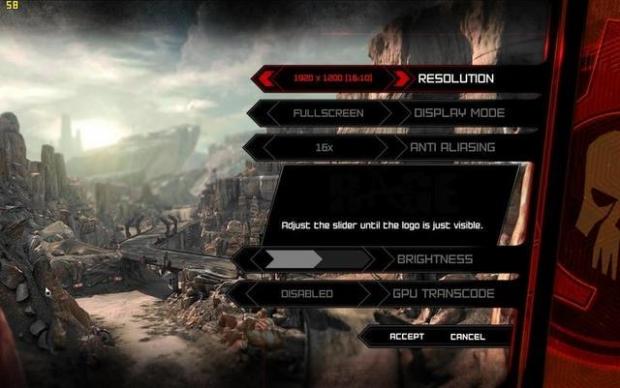 But, if you've picked up the title and want to get things running smoother, there are some things you can do. First of all, if you're an AMD Radeon user, you can grab the latest RAGE-optimized Radeon drivers here. If you're an NVIDIA user, you can grab the green team Battlefield 3 driver (which also optimizes RAGE) if you click here.
There is no developer console by default, but if you'd like one... right click on RAGE in your library on Steam, click properties and select the launch options, then add "+set com_allowconsole 1" in the box. Note: This will take away your ability to gain achievements. Then, by pressing the tilde key like usual, the console can be launched. From the console you can then type "listcvars" or "listcmds" to see everything you're able to tweak.
If you don't want to lose the achievements or mess around in the console, you can just add the following text to your launch options in RAGE:
"+cvaradd g_fov 12 +com_skipIntroVideo 1 +image_anisotropy 16 +image_usecompression 0 +g_showplayershadow 1 +m_smooth 0"
What this will do is increase your field of view, take away the intro video, set anisotropic filtering to 16X, take away mouse smoothing and kill the compression that people are having trouble with. Remember that everyone is different, so you can mix and match or change those settings to your personal taste. Also, adding "+r_swapInterval 1" will also force V-Sync, which should help with some of the tearing.
Bethesda has also released a few tips on how to get the game well:
The higher the resolution at which the game renders and the higher the anti-aliasing setting, the more texture data is needed to texture the environment. If you do not have a high-end CPU you may momentarily see blurrier textures and texture popping when the view changes quickly.
If you have a processor with few cores and you have a high end NVIDIA graphics card then you can try turning on the "GPU Transcode" menu option in the video settings menu in RAGE. By enabling this option a large percentage of the texture calculations are moved to the graphics processor (GPU). However, this option is not available on all graphics hardware and may not appear in the menu if your hardware does not support the necessary features.
Related Tags