You and Apple Siri, Q&A etc with your iPhone 'intelligent assistant'
Voice commands taken to a whole new level with iPA.

Published Tue, Oct 4 2011 1:45 PM CDT
|
Updated Tue, Nov 3 2020 12:31 PM CST
Twitter and Facebook (as well as Apple stocks) is alive with disappointed after expecting more from the "Let's talk Apple" event.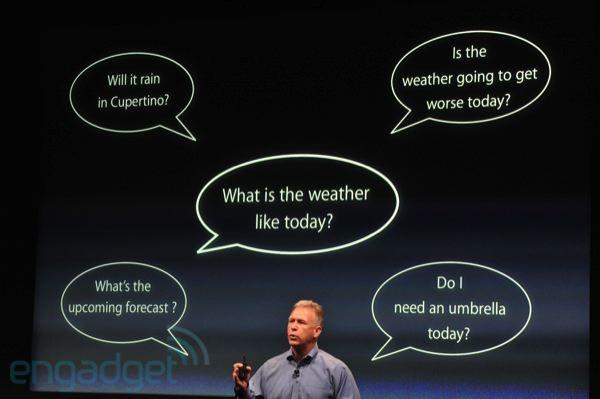 Apple left the biggest announcement of the show till the end by introducing "Siri" aka your iPA (personal assistant). Siri takes voice commands and throws the whole concept out the window with a wildly impressive new way for you to communicate with your iPhone.
Apple bought Siri (a mobile assistant app) in April last year and has spent the time since evidently doing a great job of implementing it into iOS 5.0.
You can ask your supported iPhone all sorts of questions and Siri will give you an answer. During the event, some demo examples were given such as basic ones such as "What is the weather like today?". That's pretty standard, but when you can ask a question like, "Do I need an umbrella today?", it gets real impressive. Then you can ask your iPhone to run commands for you by way of saying something like "Wake me up tomorrow at 6 AM". Then Siri will set your alarm for 6 AM tomorrow, as requested. It will also do other things like give you a time in another city or find you a restaurant, as you would expect.
[img]2[/img]
It's unclear if Siri will be iPhone 4S exclusive, but judging by the horsepower that would likely be required, it would probably be a pretty safe bet to assume it would be iPhone 4S only. Nevertheless, Siri looks extremely cool.
Related Tags