A couple weeks back we saw MSI make a bold claim that GIGABYTE's "PCI-Express 3.0" implementation on many of its motherboards is, to have put it bluntly, "Fake". MSI even went to the extent of creating a number of detailed slides to express their views on why GB is supposedly misleading its buyers with the "Ready for Native PCIe Gen.3" tag on as many as 40 of its motherboards.
Of course, it wasn't difficult to imagine GIGABYTE would respond at some point in relation to this claim, and sure enough, that occured just the other day.
With that being a somewhat wishy washy response in unsurprising defence, what I felt particularly news worthy was ASRock's comedic approach to the whole situation, with a new advertisement showing up via its Facebook page that puts its own range of PCI-E 3.0-ready boards up on a pedestal, not that they ever really came down off it seeing as they were one of the first to roll in PCI-E 3.0-ready boards anyway.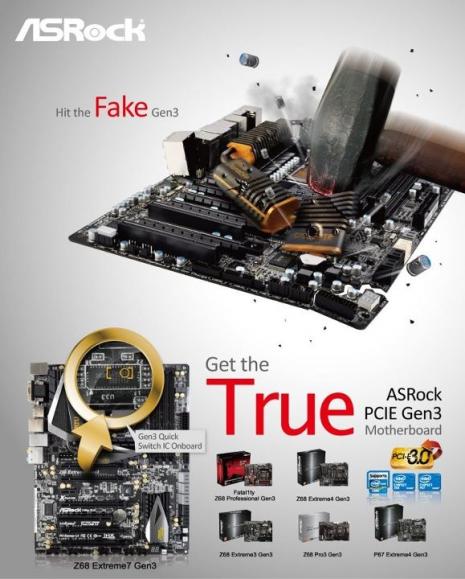 Aww... no love for the poor ole' Z68X-UD7 here.