Bing has cost Microsoft $5.5 billion since 2009
Microsoft's Bing has cost them $5.5 billion since 2009.

Published Wed, Sep 21 2011 7:52 PM CDT
|
Updated Tue, Nov 3 2020 12:31 PM CST
Microsoft's two-year old search engine, Bing, is losing close to $1 billion per quarter. Since Bing launched in 2009, Microsoft have lost $5.5 billion, but their losses actually pre-date that. And while we're at it, did you know that Microsoft's online services division has never made money? Since Microsoft began breaking out that unit's finances in 2007, they've lost a total of $9 billion. In the past 27 months, Microsoft has proudly claimed that it has gained search market share from Google.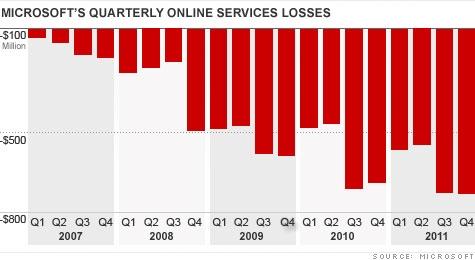 Bing as it stands, has 14.7% of the search share market, up from 8.4% when it launched. Google currently has 64.8% down just two-tenths of a percentage point from the 65% it had when Bing launched. Microsoft has clawed market share traction from third-place rival, Yahoo. The rest of it has come from Ask.com and AOL. Also remember that Yahoo's search is Bing-powered, meaning that half of Microsoft's share growth has come from its search partner.
Microsoft President of Online Services, Qi Lu, said that Microsoft could not and would not try to "out-Google" Google. Instead they must "change the game fundamentally".
Related Tags