Battlefield 3 to be sub-HD on consoles, will run at 1280x704
Battlefield 3 to run at 1280x704 on Xbox 360 and PS3.

Published Thu, Sep 8 2011 2:00 AM CDT
|
Updated Tue, Nov 3 2020 12:31 PM CST
When the Xbox 360 and PS3 games launched, we were told it would usher in a new era of "1080p gaming", that has really never taken off. Apart from a few games, most AAA titles run at sub-HD or HD (720p) resolutions. Battlefield 3 will be no exception. DICE's rendering architect has tweeted that the game will run at 1280x704 as it saves good performance and memory for the game. While this is not surprising, I don't see how console owners can get angry at this. The consoles are 5 - 6 years old now, hardware of that day could never run games at 1920x1080 at 30fps consistently with constantly upgrading game engines and graphical details.
The tweet says "BF3 is 1280704 on both PS3 and 360. Removing a few lines from 720p saves good performance and memory for us." It can also be seen in the picture below: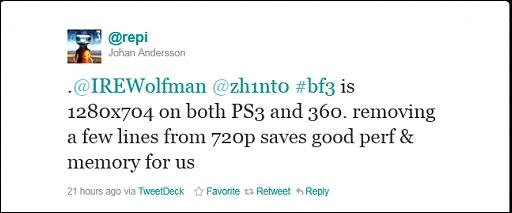 This is why it pays to have a PC that can be upgraded over time. New consoles have never needed a better excuse to be launched - come on Microsoft and Sony, do it now.
Related Tags