Smartphones and tablets are edging ever-so-close to the now ageing consoles in terms of capabilities, with the future not looking bright for the old consoles. SoC (System on Chip) creators such as NVIDIA and Qualcomm have some very powerful technology coming out and Qualcomm has gone as far as saying that future SoCs will be capable of beating current-generation consoles such as the Xbox 360 and PlayStation 3 in terms of graphics and that we'll see a move from console and PC gaming to mobile-based gaming.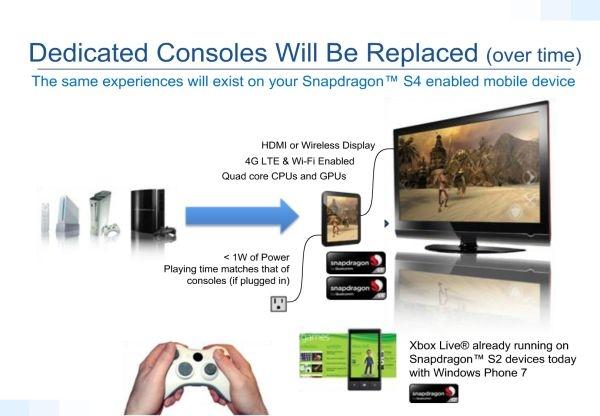 Their vision is to have a device such as a smartphone or tablet based on a high-end SoC, plug it into the wall or tether to a display (either wirelessly or through HDMI) and you've got a portable gaming console. Qualcomm is committed to delivering both the hardware and software support needed to bring developers to these platforms.
Most players in the SoC market are looking at doing this as the smartphone and tablet market expands at what seems to be a never-ending rate. With console sales slowing down, there is no better time for next-generation console announcements from the juggernauts of Microsoft and Sony. The transition from console and PC-based gaming to mobile-based gaming won't happen overnight, as there are too many AAA franchises on the big boy platforms.
Even if SoC-based gaming does happen and it becomes better quality than consoles, it'll be interesting as smartphones and tablets will come out every few months and leapfrog each other in terms of performance, quality and speed. Where consoles have a near ten-year cycle which means they'll most likely look aged after two or three years. Is the age of limited hardware-based consoles over? Will SoC systems take over?
We'll have to wait and see.