OCZ's next gen Z-Drive R4 PCIe SSDs arrive - 2,800MB/sec 3.2TB model tickle your fancy?
OCZ creates a Catch 22 situation - Insanely fast, insanely expensive.
Published Wed, Aug 3 2011 8:54 AM CDT
|
Updated Tue, Nov 3 2020 12:31 PM CST
OCZ has today branched out its Z-Drive family of PCI Express based SSDs with its next-generation series in the Z-Drive R4, giving astonishing performance figures with up to 2,800MB/sec speeds on tap.
Making use of the Virtualized Controller Architecture (VCA), the Z-Drive R4 uses either four or eight SandForce controllers as well as a proprietory SuperScale Storage controller from OCZ. The models using four SandForce chips are half height, while the SandForcex8 powered drives are full height cards.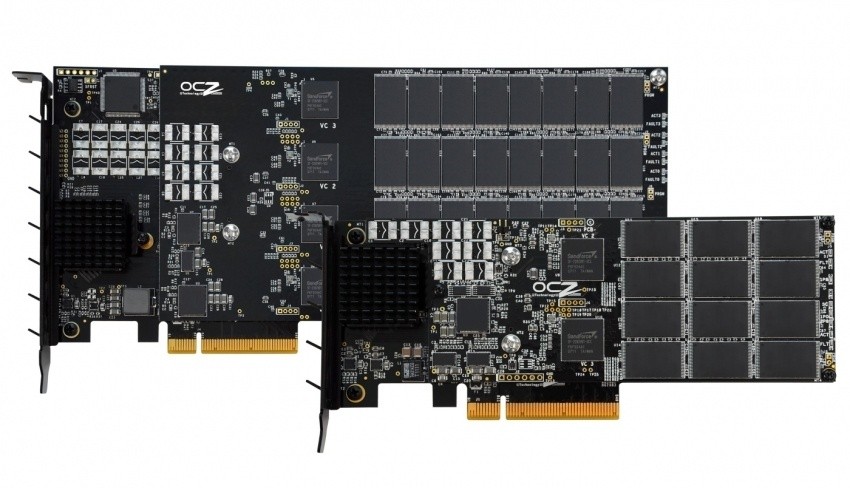 The Z-Drive R4 series use the PCI-E x8 interface and have TRIM/SCSI Unmap support, 128-bit & 256-bit AES encryption, using MLC (multi-level cell) NAND Flash memory chips. OCZ quotes IOPS of up to a whopping 500,000 in ideal conditions, with random 4k write performance topping out at around 410,000 IOPS.
Capacity wise, the new Z-Drive R4 comes in 300GB, 600GB, 1.2TB half height sizes, and the killer full height drives are offered up in 800GB, 1.6TB and 3.2TB capacities. Power Fail Protection is also offered in the Z-Drive R4 'R' Series in the lineup.
The series has an MTBF of 2 million hours and OCZ backs them by a 3 year warranty.
Related Tags