Windows XP falls below 50% OS market share
Windows XP falls below 50% OS market share, Windows 7 still selling like hotcakes.

Published Mon, Aug 1 2011 10:00 PM CDT
|
Updated Wed, Mar 10 2021 1:19 PM CST
At the end of July, Windows XP fell below 50% OS market share. Between June and July, Windows' market share in general dropped 0.63 percentage points (from 88.29-percent to 88.76-percent), whilst Mac OS games 0.22 percentage points and Linux gained 0.03 percentage points. Mobile operating systems have also, most obviously, gained market share. In the same period, Windows 7 gained 0.74 percentage points whilst Vista slipped 0.28.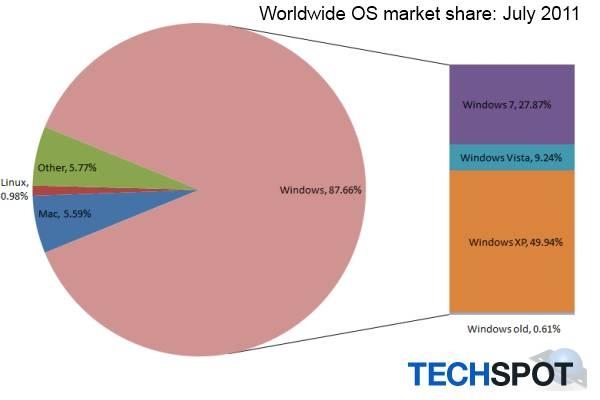 By the end of 2010, Windows 7 nabbed 20% of the market and by the end of April 2011, it had 25%. Last month Microsoft reported they had sold over 400 million licenses in 21 months which means they're selling no less than 20 million per month. Back to school season is approaching which should see these numbers stay solid until at least 2012.
Related Tags