Google+ is getting close to 18 million users
Google+ nearing 18 million users.

Published Wed, Jul 20 2011 1:06 PM CDT
|
Updated Tue, Nov 3 2020 12:31 PM CST
Paul Allen's Google+ account has a new public post, saying that membership may pass 18 million today. Allen says that there have been 750,000 sign-ups on Monday alone which brings the total user base to nearly 18 million. Last week saw two days in which Google+ saw 2 million sign ups per day, but the exponential growth slowed to roughly 1 million new users a day. Keep in mind that this growth is all without Google actually marketing Google+ through any of its other channels such as Google search, YouTube or Blogger.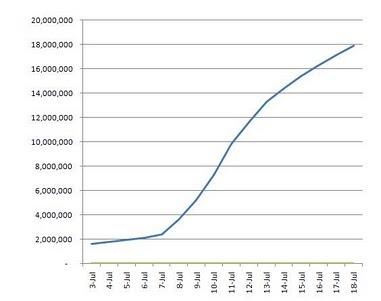 Google says when this happens, we should see millions of people joining Google+ on a daily basis for quite some time. Chairman Eric Schmidt says the vision Google have is to integrate Circles and sharing with all other Google properties. Google haven't started marketing Google+ because they're still trying to get the product "right." Google say they're paying attention to what customers are saying and responding quickly to try and improve the service.
If you'd like to take a look at the quite large post Allen made, check it out here.
Related Tags