Intel Sandy Bridge-E to be out this year, platform features to be chopped? PCI Express 3.0 waves goodbye?
Intel's Sandy Bridge-E to pop its head out this year?

Published Sun, Jul 17 2011 9:10 PM CDT
|
Updated Tue, Nov 3 2020 12:31 PM CST
It was only a few weeks ago that reports were out that Intel's next-gen Sandy Bridge-E and Waimea Bay platform had been delayed until 2012 but new information has popped up and is suggesting that Intel is trying very hard to get the new platform onto the market this year. This means that Intel will have to make some compromises on a lot of the platform features.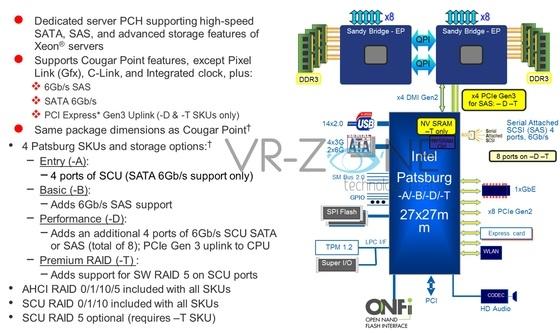 According to sources, Intel is having issues with the platform in the form of issues with storage, PCI Express problems and even CPU revisions. This sounds like bad news for a company wanting to launch their next-gen enthusiast platform. There are various platform SKUs coming in the form of Patsburg -A, -B, -D and -T. The X79 chipset is known as Patsburg-X and was meant to be similar to what Patsburg-D brings to the table.
Patsburg-D is set to offer not only four additional SATA/SAS 6Gbps via the SCU but also a PCI-Express 3.0 uplink to the CPU where Patsburg-T gains another RAID level but other than that is identical to the Patsburg-D. Patsburg-X was meant to obviously come with the features of the -D version but since Intel has run into various issues, they've decided to downgrade the feature set and it will be more in line with the Patsburg-B flavor of chipset. What does this mean? Prepare for tears.
No PCI Express 3.0 storage uplink to the CPU and the loss of those four extra SATA/SAS 6Gbps ports, even for most people this won't be disappointing. But for the enthusiast level hardware to hit and have something that is not available yet (PCI Express 3.0 and those additional SATA/SAS ports) this is quite a let down. Intel is however looking at a way of still being able to offer the storage uplink and the missing SATA/SAS 6Gbps ports after launch through a software/BIOS patch being the PCI Express 3.0 interface won't be present on the motherboard. It would mean a second revision of the X79 chipset if this is true.
Sandy Bridge-E was meant to be Intel's first native PCI Express 3.0-enabled CPU but due to the lack of PCI Express 3.0 hardware to test it with, Intel have decided to postpone PCI Express 3.0 at launch and we'd be looking at Intel having to provide some form of a solution to add after launch. This means we won't see the LGA2011 platform launch with PCI Express 3.0 and this type of feature is something that will extend the platforms life until it's due to be replaced in 2013.
If that wasn't enough, Intel have run into issues with the CPU as the C-0 stepping is meant to start shipping to its partners for qualification testing within the next two to four weeks. Intel is reportedly waiting for revision C-1 until it feels confident with the Sandy Bridge-E.
It looks like we'll be waiting to see how this all pans out.
Related Tags