iOS 5 beta 3 gives the iPhone custom text message alert sounds, calls the 1990s to ask how they're going
Apple iOS 5 beta 3 brings custom text message alert sounds, finally.

Published Mon, Jul 11 2011 9:43 PM CDT
|
Updated Tue, Nov 3 2020 12:31 PM CST
Apple are finally catching up with my good old trusty Nokia 3310, custom text message alert sounds. Sarcasm aside, its about time Apple started offering custom text message alert sounds and iOS 5 beta 3 includes them. The new beta allowed users to fish for new features and one of the first ones was of course the custom alerts for SMS. Others weer subtle like a new icon for Reminders, a toggle for location/GPS settings added to the initial, iTunes-free setup and small tweaks to the wording of certain options.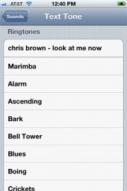 The biggest thing was a "Buy More Tones" button sitting right in the Text Tone selection screen, where it has never been, ever. Scrolling down further and the custom ringtones people had made themselves or purchased are sitting there waiting to be used as an SMS tone.
WHAT! This is amazing, revolutionary almost... until you remember that Jailbroken iPhones have had this feature for eons and virtually every other handset on this planet allows this except the great Apple. But, finally, Apple are letting users use their phones in a way they want, and not in Apple's almost Nazi fashion.
This new feature is also not just limited to text messaging its for new voicemails, new e-mail, sent e-mail, sent tweets, calendar alerts and reminder alerts.
Related Tags