Earlier on today here in Taipei we managed to cross paths with upcoming hardware from AMD and GIGABYTE. It is a good look at the hard work AMD has put into it Fusion APU technology and what GIGABYTE has done to seat it.
Specifically we met the upcoming GA-A75M-UD2H micro-ATX motherboard from GIGABYTE, which is based on the AMD A75 chipset with support for AMD Llano APU processors, using the FM1 socket configuration.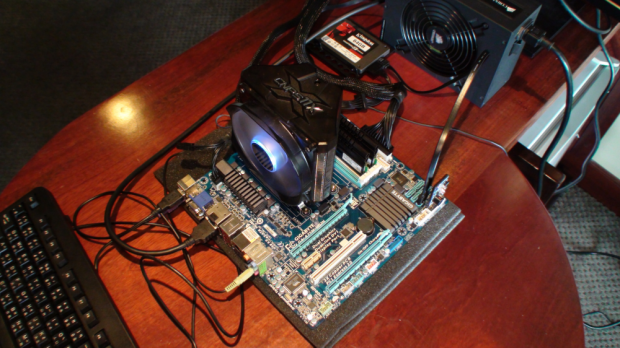 You may have seen this type of configuration before, but not like how you are going to see in the video above. We managed to overclock the AMD CPU from its default clock speed of 2.9GHz all the way up to 3.6GHz (150 x 24) using an FSB of 150MHz. In turn this also overclocked the DX11 Radeon HD GPU within the AMD APU from a core clock speed of 600MHz to 900MHz. This is really impressive and we even saw Crysis 2 running at 720p at around 40 - 45 frames per second and from a system without a video card (strange to look at, actually), that is rather good.
[img]2[/img]
As you can see in the video above, we managed a 3DMark Vantage performance score of 6281, which is a world record for IGP. This new hardware setup from AMD and GIGABYTE will more than likely be on sale next week and for sure in popular stores next month.
[img]3[/img]