ASUS are ready to unleash new Republic of Gamers-branded products
ASUS set to unleash new ROG-branded products.

Published Wed, Jun 1 2011 2:35 AM CDT
|
Updated Tue, Nov 3 2020 12:31 PM CST
COMPUTEX Taipei 2011:
ASUS are set to raise the bar with their Republic of Gamers line with a bunch of new products. Take a deep breath right about now... because you're going to need it! First up, we have the ASUS ROG G74Sx 3D Gaming notebook. This notebook is a high-performance notebook for gamers on the go, it features clean, angular lines that of which nothing less than a damn stealth fighter jet has, and the power to match thanks to Intel's amazing Sandy Bridge architecture.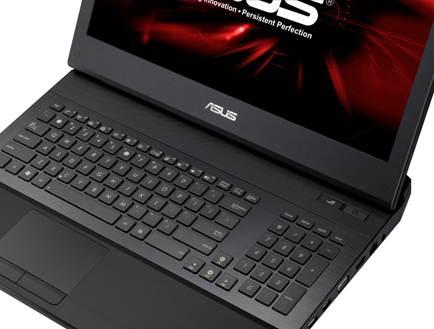 NVIDIA fills out the graphics quota of the G74Sx notebook with a GTX 560M chip that will allow great frame rates at the native 1920x1080 Full HD resolution as well as NVIDIA 3D Vision which allows playback of 3D Bluray movies and 3D Vision-compatible games. ASUS have gone one-up on this notebook by using an innovative thermal design that features twin fans to draw cool air from the front of the case whilst two rear exhausts help by expelling warm out the rear.
It also features a gamer-friendly keyboard that looks ever-so-stylish. Backlit keys are included to make sure your parents basement lighting (or lack thereof) doesn't effect your late night or all night gaming sessions.
Up next we have the ASUS ROG Crosshair V Formula series motherboard which is powered by an AMD 990FX chipset and has a special feature it likes to brag about. Not only is it the first ROG motherboard with AM3+ CPU support but it's the first ever AMD motherboard to support both 3-way NVIDIA SLI and AMD CrossFireX as well as UEFI BIOS. Remember that breathing I told you about before? I'm glad you remember, because if that didn't take your breath away, I'm not finished yet.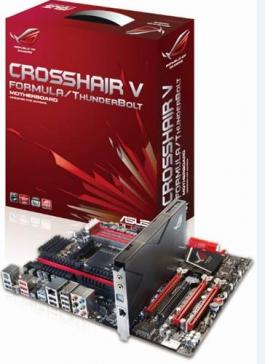 This board does not only push the boundaries of including NVIDIA SLI and AMD CrossFire X, but it includes an onboard SupremeFX X-Fi 2 which is set to deliver "the most intense and immersive gaming audio experience". Intel's Ethernet and GameFirst technology also created a LAN connection that is fast enough to keep up with the pace of modern multiplayer gaming over an internet connection that is also being used for other Internet-related tasks.
The Crosshair V Formula/ThunderBolt also comes with ThunderBolt audio/LAN combo expansion card as well as a class-leading XONAR audio solution that provides dramatically better sound quality than any other standard audio card, while it's built-in headphone amplifier with adjustable impedance settings make it perfect to getting the drop on the gaming competition.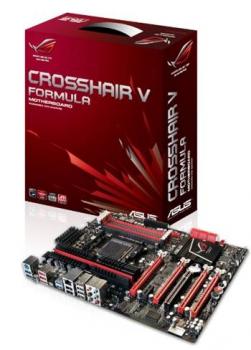 Filling the board out we have an included, award-winning Bigfood Networks Killer E2100 networking platform with exclusive Advanced Stream Detect technology which is said to automatically classify and prioritize traffic for online games, HD video and audio streams to provide optimum performance, even when performing these tasks simultaneously.
ASUS are also set to unleash the ROG Maximus IV Extreme-Z and ROG Maximus IV GENE-Z motherboards, both based on Intel's Z68 chipset, they offer two different takes on the high-performance motherboard. The Maximus IV Extreme-Z is the latest model in a long line of ROG motherboards designed from the ground up to be an overclocking enthusiasts dream come true. Where as the Maximus IV GENE-Z takes the successful ROG motherboard recipe and squishes it down to the microATX form factor.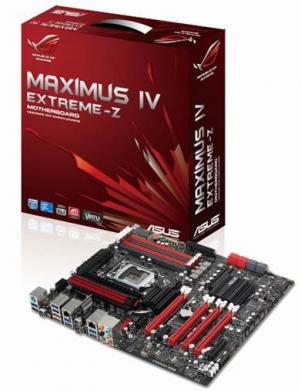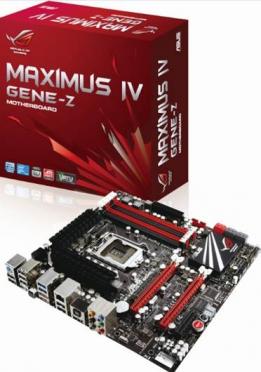 Both boards support NVIDIA SLI and AMD CrossFireX, but wait for it; the Maximus IV GENE-Z also feature support for Lucid Virtu graphics virtualization engine which means the GENE-Z can seamlessly switch between discrete and integrated graphics on-the-fly as the application demands, while SupremeFX X-Fi 2 audio and Intel Ethernet and GameFirst ensure a first-class gaming experience.
Next up ASUS have the ROG MATRIX GTX 580. This puppy is powered by the obvious NVIDIA GeForce GTX580 GPU, but it has been heavily tweaked. It includes Enhanced TweakIt, ProbeIt and Safe Mode overclocking utilities which offer unparalleled hardware adjustment while GPU Tweak provides instant settings adjustment and monitoring. The ROG MATRIX GTX 580 also features 19-phase Super Allow Power technology which provides greater overclocking abilities with more headroom and enhanced power efficiency and component durability.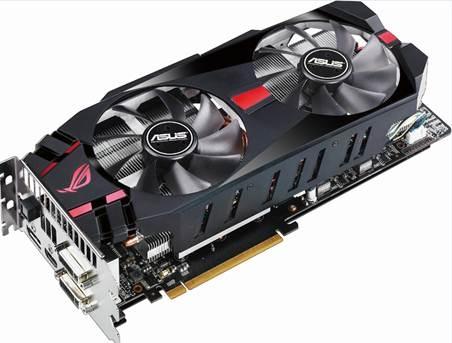 ASUS DirectCU II technology is included and it provides extremely effective cooling by combining copper heatpipes that fix in direct contact with the GPU core with two huge sound-dampened fans that suck through 600-percent (!!) more air and achieve 20-percent cooler operation than the reference-based GeForce GTX580.
ASUS aren't finished with GPUs just yet, they have also announced the ASUS ROG MARS II graphics card, to be exact it's the ROG MARS II/2DIS/3GD5 which slaps two (yes TWO) NVIDIA GeForce GTX 580's onto the card to ensure (and I'll quote ASUS here, because they're probably right) "phenomenally high frame rates in the latest games at maxed-out detail settings". Well, yeah, ASUS you're probably right!
It also includes the same tech that the MATRIX GTX 580 included; GPU Tweak overclocking utility, 19-Phase Super Allow Power tech and DirectCU dual-fan cooling.
Another breath right about now will be good and we'll continue onto the ASUS ROG Vulcan ANC Headset. The ROG Vulcan ANC Gaming Headset completes the new range of ROG-branded accessories. It's perfect for gaming in noisy environments, or for times when speakers aren't appropriate. The Vulcan ANC Gaming Headset features active noise cancelling technology specifically designed to filter external noise from both its high-quality speakers and boom microphone. This results in a crystal-clear form of audio which is perfect for music, movies, games and even VoIP calls.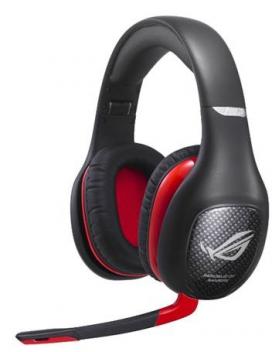 And finally, the most exciting (well, to me anyway) product in the new line up of ROG-branded procuts. The ASUS VG278 3D 27-inch monitor. This puppy is a 27-inch, LED-backlit, 3D Vision-compatible, 120Hz, Full HD monitor that features a built-in infrared emitter for wire-free 3D gaming. Not only that but it includes support for HDMI 1.4 also. Because of its 120Hz goodness, it is a perfect screen for the gamer who wants ultra-smooth, ultra-perfect looking games at high frame rates. That, or 3D!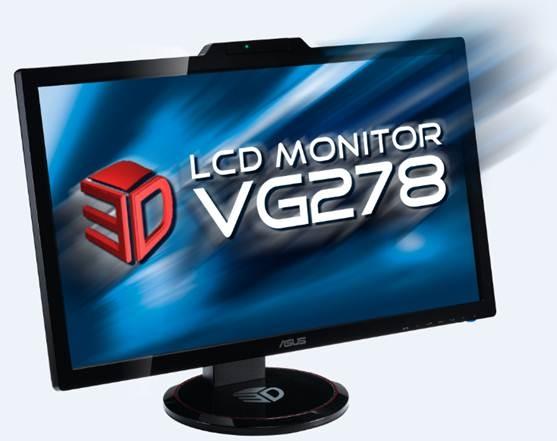 And breathe out - we're finished. ASUS has a great looking line up in the ROG range and I'm looking forward to getting my hands on multiple products including that amazing looking screen - not just one, but 3 to have some great 3D Vision Surround gaming action!
Related Tags