Sharp teases the HT world with 85-inch, capable of 7860x4320, also capable of reducing HT lovers into tears
Sharp unveils new 85-inch, 8K Ultra High Definition display, capable of 7680x4320.

Published Sun, May 22 2011 9:39 PM CDT
|
Updated Tue, Nov 3 2020 12:31 PM CST
If this were my own tech site, where I didn't have to type up a few paragraphs on the news I post, the only word that would accompany this news would be: Wow. I would end it with "Wow" and a link to the YouTube video - but holy bloody crap, Sharp and Japanese national TV broadcaster, NHK (Japan Broadcasting Corporation) have jointly developed an 85-inch LCD compatible with Super Hi-Vision, a next-generation television broadcast format.
The new format comprises of 33 megapixels, or 16 times the resolution of HDTV, Super Hi-Vision is being pushed as offering a powerful, life-like image reproduction. R&D began in 1995 (!) and they aim to have trial broadcasts before the decade ends. Sharp used their UV2A2 LCD technology which allows them to create the first direct-view LCD compatible with the insanely high resolution performance of Super Hi-Vision.
Sharp's TV features a Super Hi-Vision-compatible LCD, 85-inch in size, a native resolution of hold-onto-your-pants 7680x4320, a brightness of 300 cd/m2, a gradation of 10 bits for each RGB color and a refresh rate of 60Hz (boo!). The new LCD will be shown to the public at NHK's Science and Technology Research Laboratories in Tokyo from May 26, 2011 until May 29, 2011.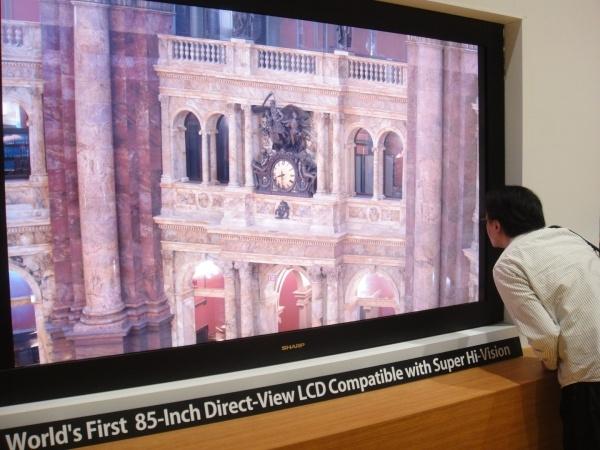 I'm just waiting on Sharp and TweakTown to hook me up with tickets to Tokyo and then I will form a plan to somehow bring this bad boy back home. One thing I will note is the source to this story says they don't even own a HDTV and don't see what the fuss is all about - visit your local HT-based store, check out a DVD on any great quality 1080p screen versus a 1080p-based playing a Bluray in 24p. Heaven.
Related Tags