NBN launches for Armidale, 7 customers start up their torrents and download the_internet.zip
NBN launches in Armidale, seven customers hooked up.

Published Wed, May 18 2011 8:34 PM CDT
|
Updated Tue, Nov 3 2020 12:31 PM CST
Seven customers have been connected to the National Broadband Network (NBN) trial services in Armidale ahead of the official launch. The launch of the NBN marks the start of trial customer services for various ISPs such as Telstra, iiNet, Internode and Primus. iINet and Internode have two customers each, Primus with a single lucky customer and Telstra has a "handful" of customers on NBN services.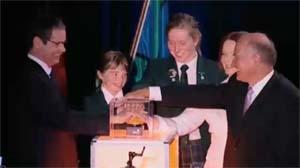 Each telco had connected to the NBN on a trial basis with no cost to the customer (where's my invite?). iiNet has their two customers on 100Mbps services with 1TB of data per month. One of the iiNet customers said he would use his new 100Mbps NBN service to work from home. Peter Erskine is a researcher at the University of New England and has said:
I work as a researcher at the University of New England; however, I prefer to work from home. The NBN connection makes it possible for me to teleconference online and keep in touch with my university colleagues online more reliably than before.
The only problem I have with that quote, is what connection, ISP and modem was he using before for him to not have a "reliable" connection. The test users on the NBN should be heavy users - IPTV, torrents, streaming YouTube videos, 4 - 5 users in the house on various connected devices such as iOS or Android-based devices, laptops and desktops as well as online gaming (PC and console). Not teleconferencing and reliability.
It's a start at least, hopefully it doesn't take another 5 years to roll out to the country.
Related Tags